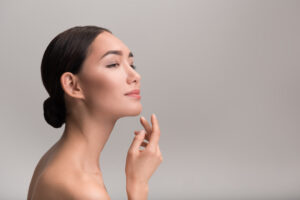 There is a common misconception that a double chin is solely the result of carrying excess weight. While fat accumulation is often a leading element, in reality, a number of additional factors can contribute to the development of unwanted fullness and sagging around the jaw and upper neck—including genetics, age, and a loss of skin elasticity. Even those who are in excellent physical shape can develop a double chin, regardless of gender.
No matter the specific cause(s), if you are dissatisfied with the contour of your upper neck and jawline, our board-certified plastic surgeon—Jon Kurkjian, MD—offers both surgical and non-surgical double chin reduction options that can help you achieve a slimmer, more sculpted under-chin and jawline profile. Highlighted below are a few potential treatments available at our practice, and Dr. Kurkjian can help you determine the optimal solution for your unique needs and cosmetic goals during a personal consultation.
Non-Surgical Double Chin Reduction
KYBELLA®
KYBELLA® can be an ideal treatment option for eliminating a mild to moderate amount of excess fat in the central neck beneath the chin, typically for those who are under 40 years of age. This non-surgical injectable is designed to break down and destroy stubborn fatty tissue throughout the injection site, gradually reducing submental fullness as the body expels fat cells via natural metabolic processes over time. For optimal results, patients may need a series of KYBELLA® injections spaced at least a month apart, but since fat cells do not naturally regenerate, individuals who maintain a stable weight will likely not need further KYBELLA® treatments once they have obtained their desired results.
It is important to note that while KYBELLA® can be great for reducing fat, it is not designed to eliminate excess skin—meaning it generally works best for those who have a reasonable amount of skin elasticity. In cases where a patient has a double chin caused by a combination of excess skin and fat, Dr. Kurkjian may recommend surgical treatment, such as a neck lift.
Surgical Double Chin Reduction
Liposuction
Liposuction of the neck is a surgical option for treating submental fullness caused by a more significant amount of excess fat. With this procedure, small, strategically located incisions are made in and around the treatment area, and a special cannula is used to carefully and precisely target and remove excess fat cells. The final result can be a smoother, firmer, and more contoured under-chin and neck profile. Since neck liposuction is a surgical procedure, it does generally require a brief recovery period; however, many patients are able to resume normal, non-strenuous activities within a few days.
Neck Lift
When a double chin is the result of excess, inelastic skin in addition to fat, a surgical neck lift may be the recommended treatment option. This procedure involves the removal of redundant, sagging skin and stubborn fat as well as the tightening of muscles around the neck to create a smoother, more youthful contour. When necessary, a neck lift can be paired with liposuction for more comprehensive neck and jawline rejuvenation. As a surgical procedure, a neck lift does require a period of downtime, though most individuals are back to regular, non-strenuous daily routines within a week.
Contact Our Practice
If you would like to learn more about double chin reduction options, please contact us today. Our staff will be happy to help you schedule a consultation with Dr. Kurkjian and/or go over any questions you may have.