Procedure: Approximately 3-6 hours
Anesthesia: General anesthesia
Recovery: About 2 weeks (desk jobs / light exercise)
Post-op Visits: 1 day, 1 week, 3 weeks, 6 weeks, 6 months
What Is a Mommy Makeover?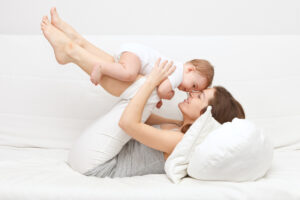 A mommy makeover is a personalized combination of procedures designed to address the physical changes often caused by hormonal and weight fluctuations during and after pregnancy. Most commonly, this comprehensive treatment consists of breast enhancement and abdominal contouring, though the exact procedures will depend on the unique needs and goals of each patient. Having completed extensive aesthetic fellowship training in both breast and body surgery, Fort Worth plastic surgeon Jon Kurkjian, MD is highly skilled in developing and performing customized mommy makeovers, ultimately helping mothers regain their pre-pregnancy physiques—or even better!
Custom-Tailoring a Mommy Makeover Plan
Every mommy makeover surgery is unique, so Dr. Kurkjian works closely with each patient to design an operative plan that addresses the specific aesthetic concerns they wish to resolve. At the time of your consultation, he will listen carefully as you explain what bothers you about your post-pregnancy figure, providing recommendations for which procedures would be most appropriate for your needs and goals.
Once potential treatments are identified, Dr. Kurkjian will utilize VECTRA® 3D imaging to demonstrate the various breast and body enhancements that can be made based on your unique anatomy. This state-of-the-art technology is particularly beneficial when selecting an ideal implant size and shape for breast augmentation or augmentation-mastopexy. Best of all, you will be able to see the type of results that can realistically be achieved on your own body, giving you peace of mind about your treatment.
If you are happy with your proposed mommy makeover plan and are ready to move forward, our team can help you schedule your surgery, as well as go over available payment plan options in the event you are interested in financing. From start to finish of your treatment, our goal is to make your mommy makeover experience as stress-free as possible, and we will do everything in our power to ensure you achieve your desired outcome with exceptional care.
What Are the Benefits of a Mommy Makeover?
A mommy makeover can be ideal for treating a variety of breast and body changes that women often experience after having their children. Some of the most common post-pregnancy concerns that can be improved include:
Excess, hanging abdominal skin
Abdominal muscle laxity
Localized fat deposits in the abdomen and flanks
Reduced breast volume
Drooping or sagging breasts
What Does a Mommy Makeover Consist Of?
During his aesthetic surgery fellowship, Dr. Kurkjian was specifically trained in both traditional and modern techniques of abdominoplasty, suction-assisted liposuction, power-assisted liposuction, ultrasound-assisted liposuction, and cosmetic breast surgery. These techniques can be used in various combinations to perform a mommy makeover procedure designed specifically for you.
Tummy Tuck and Liposuction
With pregnancy, the tummy contour is considerably affected as the skin and muscles stretch. Dr. Kurkjian can perform an abdominoplasty to restore the abdomen to your pre-pregnancy shape—or better—by tightening stretched abdominal musculature, sculpting the waist, and removing excess skin and fat. Tummy tuck surgery often involves liposuction to remove stubborn fat from the abdomen and flanks for an improved overall contour.
Breast Enhancement
After childbirth, many mothers experience significant breast deflation, often leaving them with sagging breasts. It is common for these women to wish they could have their breasts look like they did while breastfeeding. By combining a breast lift (mastopexy), with or without breast augmentation, Dr. Kurkjian helps to enhance and restore the shape and size of the breasts and reduce sagginess. Saline or silicone implants are used to provide a fuller bust line that is more proportionate to the body frame. Using our VECTRA® XT 3D imaging system, you can see where the incisions would be placed, and even pick your implant size. Rather than stuffing a bra or simply hoping for the best, this three-dimensional imaging allows for you to visualize what the breast lift with or without implants may look like on your own body.
What Is Mommy Makeover Recovery Like?
Dedicated to providing individualized care and treatment to each and every patient, Dr. Kurkjian will follow you through the entire mommy makeover healing process. During the initial stages of recovery, most women can expect some degree of swelling, bruising, and tenderness in the treated areas, but these symptoms should subside gradually over time. While significant pain is rare, any discomfort experienced can usually be alleviated with medication until fully resolved on its own.
The majority of patients look and feel well enough to return to work within two weeks after surgery. That said, Dr. Kurkjian advises that all strenuous physical activities—including heavy lifting, intense exercise, physical sports, etc.—be avoided for longer to give the body ample time to heal. Placing tension or strain on treated areas before they are fully healed may negatively impact the final results.
From start to finish of the recovery process, Dr. Kurkjian and our team are available to answer questions, address concerns, and ultimately ensure the desired results are achieved. We will touch base during several postoperative visits, and we encourage you to reach out to our practice for anything you may need along the way.
How Much Does a Mommy Makeover Cost?
Like most plastic surgery procedures, the cost of a mommy makeover will vary based on several different factors, the foremost of which is the specific treatments performed. Additionally, the skill and experience of the plastic surgeon can impact pricing, as can the area of the country in which the practice is located.
At our Fort Worth office, the average cost of a typical mommy makeover consisting of tummy tuck surgery and breast enhancement is approximately $12,000–$17,000. Included in this price are fees for the plastic surgeon, operating facility, and anesthesia. Any additional procedures or supplementary needs (such as pre- or post-operative medications) will also affect the total expense of treatment.
To help make mommy makeover an affordable reality for all interested patients, Dr. Kurkjian accepts several payment plan options offered by trusted healthcare lenders like CareCredit® and ALPHAEON™ CREDIT. With the vast number of plastic surgery financing options to choose from, a comprehensive mommy makeover can fit virtually any budget.
Contact Our Practice
If you are interested in a mommy makeover and would like to schedule a consultation with our board-certified plastic surgeon, please contact our practice today.