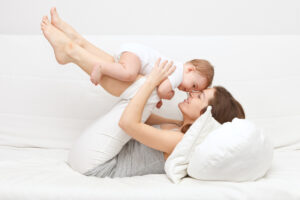 Hormonal changes and weight fluctuations associated with pregnancy commonly leave women with unwanted body changes. The comprehensive mommy makeover procedure at our Fort Worth plastic surgery practice is an exceptional way to help women regain their pre-pregnancy physique, or even better!
Dr. Jon Kurkjian is an aesthetic fellowship-trained plastic surgeon who is dedicated to providing the most modern and advanced techniques to help achieve every patient's cosmetic goals.
Benefits of Mommy Makeover Procedures
A mommy makeover is ideal to treat a variety of breast and body changes that women often experience after having their children:
Abdominal laxity
Localized fat deposits of the abdomen and flanks
Reduced breast volume
Drooping or sagging breasts
Mommy Makeover Procedure Techniques
During his aesthetic surgery fellowship, Dr. Kurkjian was specifically trained in both traditional and modern techniques of abdominoplasty, suction-assisted liposuction, power-assisted liposuction, ultra-sound assisted liposuction and cosmetic breast surgery. These techniques can be used in various combinations to perform the mommy makeover procedure designed specifically for you.
Every mommy makeover surgery is unique. With each patient, Dr. Kurkjian designs the operative plan to counteract the effects of childbearing and enhance your post-pregnancy appearance. The procedure involves different surgeries performed at the same time to achieve your aesthetic goals.
Mommy Makeover Procedures
During an in-office consultation, Dr. Kurkjian will perform a thorough physical examination to determine if you are a good candidate for a mommy makeover. At our Fort Worth practice, our approach includes the use of the Vectra XT 3D imaging system. Using this advanced technology, you will be able to review ultra-high resolution 3D images of your body and actually change your shape together with Dr. Kurkjian. Rather than stuffing bras or just hoping for the best, you can now see a digital version of what each breast implant size might look like in your breast.
Tummy tuck (abdominoplasty) : With pregnancy, the tummy contour is considerably affected as the skin and muscles get stretched. Dr. Kurkjian can perform an abdominoplasty to restore the abdomen to your pre-pregnancy shape or better by tightening stretched abdominal muscles, sculpting the waist, and removing excess skin and fat. Tummy tuck surgery often involves liposuction to remove stubborn fat from the abdomen and flanks.
Breast procedures: After childbirth, many women experience significant breast deflation and thus are left with sagging breasts. Women commonly wish they could have their breasts look like they did while breast-feeding. By combining a breast lift, or mastopexy, with or without breast augmentation, Dr. Kurkjian helps to enhance and restore the shape and size of the breasts and reduce sagginess. Saline or silicone implants are used to provide a fuller bust line that is more proportionate to the body frame. Using our VECTRA® XT 3D imaging system, you can see where the incisions would be placed on your body and even pick your implant size. Rather than stuffing a bra or just hoping for the best, our 3-dimensial imaging allows for you to see what the breast lift with or without implants may look like on your body.
Dedicated to providing individualized care and treatment to each and every patient, Dr. Kurkjian will follow you through the entire healing process. Most women can return to work within 2 weeks after a mommy makeover.
Contact Our Practice
If you are interested in a mommy makeover and would like to schedule a consultation with our board-certified plastic surgeon, please contact our practice today.