Procedure: Approximately 3-6 hours
Anesthesia: General anesthesia
Recovery: About 2 weeks (desk jobs / light exercise)
Post-op Visits: 1 day, 1 week, 3 weeks, 6 weeks, 6 months
What Is a Mommy Makeover?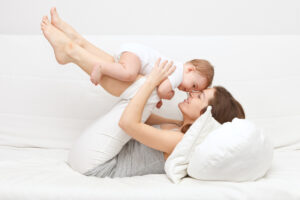 A mommy makeover is a personalized combination of procedures designed to address the physical changes often caused by hormonal and weight fluctuations during and after pregnancy. Most commonly, this comprehensive treatment consists of breast enhancement and abdominal contouring, though the exact procedures will depend on the unique needs and goals of each patient. Having completed extensive aesthetic fellowship training in both breast and body surgery, Fort Worth plastic surgeon Jon Kurkjian, MD is highly skilled in developing and performing customized mommy makeovers, ultimately helping mothers regain their pre-pregnancy physiques—or even better!
Custom-Tailoring a Mommy Makeover Plan
Every mommy makeover surgery is unique, so Dr. Kurkjian works closely with each patient to design an operative plan that addresses the specific aesthetic concerns they wish to resolve. At the time of your consultation, he will listen carefully as you explain what bothers you about your post-pregnancy figure, providing recommendations for which procedures would be most appropriate for your needs and goals.
Once potential treatments are identified, Dr. Kurkjian will utilize VECTRA® 3D imaging to demonstrate the various breast and body enhancements that can be made based on your unique anatomy. This state-of-the-art technology is particularly beneficial when selecting an ideal implant size and shape for breast augmentation or augmentation-mastopexy. Best of all, you will be able to see the type of results that can realistically be achieved on your own body, giving you peace of mind about your treatment.
If you are happy with your proposed mommy makeover plan and are ready to move forward, our team can help you schedule your surgery, as well as go over available payment plan options in the event you are interested in financing. From start to finish of your treatment, our goal is to make your mommy makeover experience as stress-free as possible, and we will do everything in our power to ensure you achieve your desired outcome with exceptional care.
What Are the Benefits of a Mommy Makeover?
A mommy makeover can be ideal for treating a variety of breast and body changes that women often experience after having their children. Some of the most common post-pregnancy concerns that can be improved include:
Excess, hanging abdominal skin
Abdominal muscle laxity
Localized fat deposits in the abdomen and flanks
Reduced breast volume
Drooping or sagging breasts
What Does a Mommy Makeover Consist Of?
During his aesthetic surgery fellowship, Dr. Kurkjian was specifically trained in both traditional and modern techniques of abdominoplasty, suction-assisted liposuction, power-assisted liposuction, ultrasound-assisted liposuction, and cosmetic breast surgery. These techniques can be used in various combinations to perform a mommy makeover procedure designed specifically for you.
Tummy Tuck and Liposuction
With pregnancy, the tummy contour is considerably affected as the skin and muscles stretch. Dr. Kurkjian can perform an abdominoplasty to restore the abdomen to your pre-pregnancy shape—or better—by tightening stretched abdominal musculature, sculpting the waist, and removing excess skin and fat. Tummy tuck surgery often involves liposuction to remove stubborn fat from the abdomen and flanks for an improved overall contour.
Breast Enhancement
After childbirth, many mothers experience significant breast deflation, often leaving them with sagging breasts. It is common for these women to wish they could have their breasts look like they did while breastfeeding. By combining a breast lift (mastopexy), with or without breast augmentation, Dr. Kurkjian helps to enhance and restore the shape and size of the breasts and reduce sagginess. Saline or silicone implants are used to provide a fuller bust line that is more proportionate to the body frame. Using our VECTRA® XT 3D imaging system, you can see where the incisions would be placed, and even pick your implant size. Rather than stuffing a bra or simply hoping for the best, this three-dimensional imaging allows for you to visualize what the breast lift with or without implants may look like on your own body.
How Can I Prepare for Mommy Makeover Surgery?
Mommy makeovers involve multiple surgical procedures that will likely require an extended recovery process, depending on the specific treatments chosen. This is why it's beneficial to be as prepared as possible before the surgery takes place. Some initial planning can make the post-operative healing period a bit easier and further maximize safety and comfort during recovery.
Here are a few tips on what you can do before the surgery:
Prepare Your Home
Try to complete all errands before the procedure, and get your home ready and prepared for at least a week of recovery. Having your kitchen and household fully stocked with things you may need will lessen the possibility of being short on necessary items. Also, don't forget to have plenty of books, magazines, and movies nearby so you can keep your mind occupied and your body relaxed while recovery progresses.
Have All Prescriptions Filled
Dr. Kurkjian will likely prescribe some medications for you to take during recovery that can reduce discomfort and other post-operative side effects. It's a good idea to have your prescriptions filled before surgery to ensure they are readily available after your mommy makeover. This advice holds true for any other prescription medication you normally take, as well.
Make Arrangements for Assistance
Getting plenty of uninterrupted rest and reducing stress during recovery is very important, and having someone there to help you as you heal can be an essential step toward accomplishing these goals. Asking a friend or loved one for assistance with chores around the house, caring for children or the family pet, and running to the store for supplies can help you focus on recuperating from the surgery. It's also nice just to have someone there to talk to and provide comfort during the healing process.
Follow All Post-Operative Instructions and Attend Scheduled Follow-Up Appointments
Dr. Kurkjian and our plastic surgery team will give you precise and comprehensive instructions for the recovery period after your mommy makeover procedure. It is absolutely vital that these instructions are followed to the letter, as they will include guidance on how to properly care for your incisions and reduce the potential for post-operative complications. Please review them regularly and never hesitate to contact us with questions or concerns. Also, please be sure to attend follow-up appointments with Dr. Kurkjian as scheduled. These visits will allow our plastic surgeon to evaluate your recovery and ensure everything is going smoothly.
What Is Mommy Makeover Recovery Like?
Dedicated to providing individualized care and treatment to each and every patient, Dr. Kurkjian will follow you through the entire mommy makeover healing process. During the initial stages of recovery, most women can expect some degree of swelling, bruising, and tenderness in the treated areas, but these symptoms should subside gradually over time. While significant pain is rare, any discomfort experienced can usually be alleviated with medication until fully resolved on its own.
The majority of patients look and feel well enough to return to work within two weeks after surgery. That said, Dr. Kurkjian advises that all strenuous physical activities—including heavy lifting, intense exercise, physical sports, etc.—be avoided for longer to give the body ample time to heal. Placing tension or strain on treated areas before they are fully healed may negatively impact the final results.
From start to finish of the recovery process, Dr. Kurkjian and our team are available to answer questions, address concerns, and ultimately ensure the desired results are achieved. We will touch base during several postoperative visits, and we encourage you to reach out to our practice for anything you may need along the way.
Will I Have Much Pain After My Mommy Makeover?
Dr. Kurkjian employs a unique pain management protocol for mommy makeover treatments to help maximize patient comfort throughout the recovery and healing process. During surgery, he administers injections of an innovative analgesic medication designed to alleviate pain for up to 72 hours postoperatively—which has shown tremendous success in improving our patients' recovery experience. In addition, he formulates a detailed, customized schedule for how to manage any potential discomfort in the days and weeks following treatment, effectively helping to further improve—and even expedite—the overall healing process.
When all is said and done, the vast majority of our mommy makeover patients are amazed at how little pain or discomfort they experienced in comparison to what they initially expected.
Will I Have Noticeable Mommy Makeover Scars?
Mommy makeovers typically involve major surgery, and all surgical procedures will result in some degree of residual scarring. With this in mind, the size of the scars and their visibility will ultimately depend on the particular treatments chosen for your mommy makeover, as well as your genetic makeup.
Liposuction does not often lead to extensive scarring since the incisions required are usually quite small. Dr. Kurkjian is also frequently able to place liposuction incisions in rather inconspicuous areas, further minimizing their noticeability. Tummy tuck surgery will result in a scar that extends from hip to hip; however, this scar is often fairly low on the abdomen and easily concealable under clothing. For breast surgery procedures, the resulting scars will depend on the specific techniques utilized and whether a breast lift and breast augmentation are both being performed in combination. Regardless, scarring from the breast enhancement aspect of treatment can usually be hidden by most tops, swimsuits, and bras.
Concerning the role genetics plays in scarring, Dr. Kurkjian takes great care with incision placement and offers detailed post-operative instructions that can help with scar healing, but the ultimate extent and subsequent maturation of scar tissue will be based on your unique skin characteristics. Therefore, it is important to keep in mind that your final scar aesthetics will likely be different from that of another individual—even when the surgical techniques employed and aftercare instructions followed are exactly the same.
All things considered, many patients find that their scars tend to fade to a certain degree and become less noticeable over time, and most women who undergo a mommy makeover feel the physical and emotional benefits of treatment are completely worth any scarring in the end.
How Much Does a Mommy Makeover Cost?
Like most plastic surgery procedures, the cost of a mommy makeover will vary based on several different factors, the foremost of which is the specific treatments performed. Additionally, the skill and experience of the plastic surgeon can impact pricing, as can the area of the country in which the practice is located.
At our Fort Worth office, the average cost of a typical mommy makeover consisting of tummy tuck surgery and breast enhancement is approximately $12,000–$22,000. Included in this price are fees for the plastic surgeon, operating facility, and anesthesia. Any additional procedures or supplementary needs (such as pre- or post-operative medications) will also affect the total expense of treatment.
To help make mommy makeover an affordable reality for all interested patients, Dr. Kurkjian accepts several payment plan options offered by trusted healthcare lenders like CareCredit® and ALPHAEON™ CREDIT. With the vast number of plastic surgery financing options to choose from, a comprehensive mommy makeover can fit virtually any budget.
Contact Our Practice
If you are interested in a mommy makeover and would like to schedule a consultation with our board-certified plastic surgeon, please contact our practice today.