Procedure: Approximately 2–3 hours
Anesthesia: General anesthesia
Recovery: About 7 days (for office jobs and non-strenuous activities)
Post-op Visits: 1 day, 1 week, 3 weeks, 6 weeks, 6 months
What Is Rhinoplasty?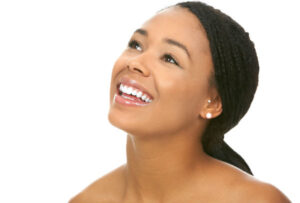 A rhinoplasty—or "nose job"—can reshape your nose and improve the way it blends with the rest of your facial features. This surgical procedure can also be performed to improve breathing function by relieving nasal airway obstruction. Board-certified plastic surgeon Jon Kurkjian, MD has specialized training in rhinoplasty and strives to provide exceptional results for every patient through customized surgical planning and meticulous technique.
Developing a Customized Rhinoplasty Plan with 3D Imaging
There is no such thing as a perfect nose, and not every nose looks good on every face. For this reason, Dr. Kurkjian will avoid having you look at photos of other people in an attempt to find your "ideal nose." Instead, he will begin the rhinoplasty consultation by focusing on what you specifically desire to change about your own nose, which helps establish attainable goals from the start.
To facilitate this process, Dr. Kurkjian utilizes VECTRA® 3D imaging—a state-of-the-art, in-office technology that enables patients to view a three dimensional representation of how their nose can be realistically altered based on their unique anatomy. Once an image of your face is displayed on the screen, the individual characteristics of your nose can be "fine-tuned" and adjusted until both you and Dr. Kurkjian agree upon the procedural strategy that may most effectively help you attain your cosmetic and/or functional desires. In addition to helping you better visualize how the new nasal contour will look on your own face, VECTRA® imaging can provide confidence and peace of mind that you and Dr. Kurkjian are on the same page in regard to your treatment.
Once a custom-tailored surgical plan is in place, Dr. Kurkjian will discuss the procedural process in great detail and answer any questions you may have. Should you choose to move forward with treatment, he will then connect you with a member of our team to schedule your rhinoplasty surgery. Ultimately, it is Dr. Kurkjian's goal to ensure a positive experience through strong communication and unmatched care, helping you to effectively address your concerns while achieving a more balanced and harmonious facial aesthetic with excellent results.
Rhinoplasty was a procedure that I had been looking to get done for many years, I was afraid of getting it done for many reasons ranging from the end results to the attitude of the Doctors and their staff. Dr. Kurkjian was the best choice after doing all my research, and I am glad I did hours of research. My first appointment took away most of my fears, the staff at his office is way beyond attentive and friendly, the offices are really clean and well maintained, they have the technology to show you on your first appointment how you will look after surgery. They take multiple pictures and they give you an idea of what you will look like after the procedure, which is amazing. They let you take all the time you need to call them back and let them know if you would like to go through with the plastic surgery. That being said, I am almost 5 weeks post op. I am as happy as I have ever been with myself, he did a really good job with my nose, and more importantly, he makes himself available at all times for any questions you may have, Dr. Kurkjian treats you like a patient and like a friend, I would recommend him to anyone looking to change or improve their appearance.

Rod Desrets

May 23, 2017

12345
What Are the Benefits of Rhinoplasty?
Rhinoplasty can reduce or increase the size of the nose for an enhanced overall appearance. Listed below are some of the most common conditions that can generally be improved with rhinoplasty:
A bulbous tip
A boxy tip
A misaligned or crooked nose
A hump in the nasal bridge
A drooping nasal tip
Misshapen and/or disproportionately sized nostrils
In addition to addressing these aesthetic concerns, reconstructive nose surgery at our practice can also correct impaired breathing caused by a deviated nasal septum and other structural issues.
Who Is a Good Candidate for Rhinoplasty?
There is no upper age limit for rhinoplasty, though most plastic surgeons recommend you should be over 16 years of age and should have achieved full facial growth prior to undergoing the procedure. Additional candidacy requirements include being a non-smoker (or having stopped smoking at least six weeks prior to surgery), being in good overall health with no existing medical conditions that may negatively impact healing, and having realistic expectations for the outcome of surgery. All of these requirements—and any further factors that may apply to your unique case—will be comprehensively discussed at the time of the consultation.
Open Rhinoplasty vs. Closed Rhinoplasty
The key difference between open rhinoplasty and closed rhinoplasty is the location of the incisions through which surgery is performed. In open rhinoplasty, an incision is generally made in the vertical strip of the nose (columella), enabling the skin to be separated from the nasal framework underneath. In contrast, closed rhinoplasty is typically performed through the nostrils using small incisions located on the inside of the nose—resulting in no external scarring. Each method has distinctive benefits, and Dr. Kurkjian will recommend the most appropriate option for your needs and goals at the time of the consultation.
What Does the Rhinoplasty Procedure Entail?
During surgery, Dr. Kurkjian will first carefully make incisions based on the open or closed technique agreed upon during treatment planning. With either approach, tissue, bone, and cartilage is then carefully contoured and/or removed until an optimal outcome is attained. In rare cases, a cartilage graft taken from the rib and/or ear may be necessary for ideal results. Once nasal sculpting is complete, the incisions are meticulously closed to promote ideal healing.
Depending on the extent of the operation, rhinoplasty generally takes two to three hours to complete, and most patients are able to return home under the care and supervision of a friend or family member on the day of their procedure. Regardless of which technique is utilized, Dr. Kurkjian employs a methodical surgical approach to help prevent excessive postsurgical discomfort, diminish recovery/downtime, and ensure any potential scarring is well concealed—if not invisible—once fully healed.
Ethnic Rhinoplasty
Ethnic rhinoplasty is a generic term that refers to nasal surgery performed for men and women of Middle Eastern, Hispanic, African, Asian, or other non-Caucasian descent, with the goal of improving the look and/or function of the nose while carefully respecting and preserving distinctive features of the patient's ethnicity. Due to variances in typical nasal anatomy and common aesthetic desires among different ethnicities around the world, however, it is more accurate—and more appropriate—to refer to ethnic rhinoplasty by the specific ancestry of the individual. To learn about Dr. Kurkjian's approach to Middle Eastern rhinoplasty, Hispanic rhinoplasty, African-American rhinoplasty, or Asian Rhinoplasty, we invite you to contact our practice today to schedule a consultation.
Revision Rhinoplasty
Rhinoplasty is considered one of the most complex plastic surgery procedures available, and as such, the final outcome may not always be satisfactory when surgery is performed by an inexperienced or unqualified physician. For individuals who are unhappy with the aesthetic or functional results of a previous nose surgery, Dr. Kurkjian performs revision (secondary) rhinoplasty—a procedure designed to resolve issues created and/or left unaddressed by a prior rhinoplasty. He was trained by internationally renowned secondary rhinoplasty surgeons during his time in Dallas and New York City, and he is experienced in achieving excellent results with high rates of patient satisfaction. To learn more about this secondary nasal treatment, please visit our page devoted to revision rhinoplasty.
What Is Rhinoplasty Recovery Like?
Our goal is to provide every patient with individualized care and attention to make the rhinoplasty experience at our practice a safe, comfortable, and memorable one. A splint is typically placed on the skin to help protect the reshaped nose, which is removed along with any sutures approximately one week after surgery. Unlike traditional methods, Dr. Kurkjian does not "pack" the nose following the procedure, as this typically leads to significant postoperative discomfort. Our follow-up appointments are designed to monitor healing and help facilitate a quicker, smoother recovery. Initial swelling usually lessens within a week, and most patients feel comfortable returning to work about seven days after their procedure. The cosmetic outcome improves gradually, though it may take up to a year for the full results of your rhinoplasty to be evident.
How Much Does Rhinoplasty Cost?
The average cost of primary rhinoplasty generally starts at $9,850, which includes fees for the plastic surgeon, anesthesia, and operating facility. Because the procedure is customized to meet the unique needs and goals of the individual, additional costs may be applied based on the complexity of the surgery. Depending on one's plan, health insurance might provide partial or full coverage in the event rhinoplasty is being sought for medical reasons—e.g. breathing issues—and most practices offer plastic surgery financing options to help make treatment as affordable as possible for those covering the expense of out-of-pocket.
Is Non-Surgical Rhinoplasty Possible?
In addition to surgical rhinoplasty, Dr. Kurkjian offers a procedure known as "liquid rhinoplasty" for individuals seeking to non-surgically enhance the appearance of their nose. This minimally invasive technique involves the use of injectables to recontour various nasal characteristics for an improved overall aesthetic. While the volumizing effects of injectables will wear off over time, patients can maintain an optimal outcome by receiving periodical touch-up treatments. For more information about this non-surgical method, please check out our page on liquid rhinoplasty.
How Do I Choose a Rhinoplasty Surgeon?
Choosing the right rhinoplasty surgeon is critical to achieving optimal results from both an aesthetic and functional standpoint. The following tips can help ensure you select the best provider for your rhinoplasty:
Confirm the plastic surgeon is certified by the American Board of Plastic Surgery and well-trained in rhinoplasty
Verify the surgeon performs both open and closed rhinoplasty techniques
Ensure there is two-way communication and that the surgeon provides personalized answers and explanations for all aspects of treatment
Make sure surgery will be performed in a hospital or accredited operating facility
In addition to these recommendations, it is important to strongly consider bedside manner when choosing a rhinoplasty surgeon. Every patient deserves to receive the utmost level of care and individualized attention before, during, and after surgery—never to be treated as simply another number at the practice.
Additional Questions About Rhinoplasty
Will I have a scar after rhinoplasty?
The visibility of scarring after rhinoplasty will depend on the technique used during surgery. When the closed rhinoplasty approach is utilized, there will typically be no external scarring as all incisions are made on the inside of the nostrils. For open rhinoplasty, a small external incision is made on the tissue between the nostrils; however, the resulting scar tends to be rather inconspicuous and often fades over time with proper care.
How can I reduce swelling after rhinoplasty?
To help reduce swelling after rhinoplasty, Dr. Kurkjian recommends the following tips:
Keep the head in a slightly elevated position—even when lying down and/or sleeping
Gently apply cold compresses to the areas around the nose (not directly on the nose) during the first few days of recovery
Avoid adjusting or excessively touching the nasal splint
Take non-strenuous walks periodically to promote blood flow
Protect the nose from contact
Utilize anti-inflammatory medication (if advised by Dr. Kurkjian)
When can I blow my nose after rhinoplasty?
Dr. Kurkjian generally asks patients to avoid blowing their nose for at least one week post-rhinoplasty. If possible, waiting three to four weeks after surgery is ideal, as this gives the nose longer to fully heal before enduring the force caused by blowing.
How long after rhinoplasty until I can wear glasses?
Glasses can usually be worn overtop the nasal splint after rhinoplasty; however, once the splint is removed approximately one week post-surgery, all types of glasses (including readers and sunglasses) will typically need to be avoided for at least six weeks. This is particularly true if the nasal bridge was a focus of treatment, as any pressure placed on the bridge too early may negatively affect the final outcome. Once patients are cleared to wear glasses again, Dr. Kurkjian usually recommends wearing light-weight frames until about three months post-op.
How do I clean my nose after rhinoplasty?
To clean the nose after rhinoplasty without disrupting the healing process, Dr. Kurkjian typically recommends two options: hydrogen peroxide-soaked Q-tips and saline spray. Slightly (and gently) inserting a clean Q-tip soaked in hydrogen peroxide into the nostril(s) can be a good way to remove dried blood and/or mucous initially. After about one week, saline solution can often be used to irrigate the nose and maintain good nasal hygiene. At the time of your consultation, Dr. Kurkjian can cover these cleaning techniques in more detail to help ensure optimal safety and efficacy.
Contact Our Office
To learn more about rhinoplasty, or if you would like to schedule a consultation with Dr. Kurkjian to find out if this procedure is right for you, please contact us today.