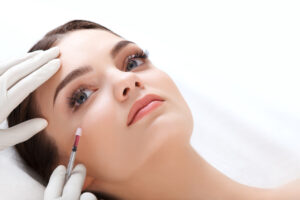 Jon Kurkjian, MD offers a full complement of minimally invasive plastic surgery techniques at Kurkjian Aesthetics, including injectables such as BOTOX® Cosmetic, Juvederm® Ultra, Juvederm® Ultra Plus, Juvederm Voluma™, Restylane® and many others.
Dr. Kurkjian personally evaluates and examines every patient.

Dr Kurkjian did a wonderful job on my Botox and filler!!! I am so excited at how great my under eye area looks!!!! No more dark circles or hollowness for this gal!!! Thank you so much!!

Cari Louquet

February 02, 2016

12345
Types of Injectables Offered
Injectable products can be categorized into two classes: Neuromodulators and Soft Tissue Fillers.
Neuromdulators include products such as BOTOX® Cosmetic, Dysport® and Xeomin®. These products are used to relax various muscles of the face in order to prevent wrinkles and lines that become more obvious with facial expression. These neuromodulators are a great option for men and women 30 years and older who are hoping to prevent those "dynamic" wrinkles from progressing to "static" wrinkles, which are present even when totally relaxed.
Soft Tissue fillers include products such as Juvederm®, Restylane®, Sculptra® and many others. These products are made from various materials, but all act to fill in areas of the face that lack volume. Different products can be used differently to fill in wrinkles, folds, and even fine lines. These injectables are better suited to address the "static" wrinkles that are present even when the face is totally relaxed. Men and women 30 years and older who have unwanted deflation or facial lines and wrinkles are good candidates for soft tissue fillers.
At the time of your consultation, Dr. Kurkjian will provide for you the FDA-approved indications for each product.
BOTOX® Cosmetic
Dr. Kurkjian is an aesthetic surgery fellowship trained plastic surgeon who specializes in offering customized facial treatments based on specific cosmetic goals. During your consultation, he will analyze your facial anatomy and help you determine the areas that would best be treated with BOTOX® Cosmetic.
Benefits of BOTOX® Cosmetic
Reduces fine lines and wrinkles
Treats smile lines or "crow's feet" which can be seen on the outer portion of the eyes
Addresses frown lines or "bunny lines" which are often found between the eye brows
How BOTOX® Injections Work
BOTOX® Cosmetic is a non-surgical facial treatment, which involves injection of small units of Botulinum toxin type A into the desired facial muscles. This injection blocks the transmission of nerve impulses into the muscles, thus relaxing the muscles by preventing contraction. This mechanism helps prevent smile and frown lines which eventually form wrinkles.
Comprehensive Treatment Plan for Each Patient
At your visit, Dr. Kurkjian will:
Evaluate your specific cosmetic goals
Analyze your skin texture and elasticity
Determine the total facial treatment plan
*BOTOX® injections require only minutes of your time. You can expect to see relaxation of the injected muscles within 2-3 days. The effect varies from patient to patient, but typically can last for 3-5 months.
*Individual Results May Vary
Soft-Tissue Fillers
There are many types of semi-permanent and permanent wrinkle fillers. Juvederm® and Restylane® are cosmetic fillers which are made from hyaluronic acid gels. Hyaluronic Acid is a substance found naturally throughout our body. Hyaluronic Acid soft tissue fillers such as Juvederm® and Restylane® are directly injected into specific areas where volume is needed. Fillers are a key part of our non-invasive approach at Kurkjian Aesthetics. Juvederm® and Restylane® can be used to:
Soften facial folds and creases
Reduce wrinkles and facial lines
Augment thinner lips
Enhance volume in the malar area (cheeks)
Shape the jaw line
Improve the appearance of depressed scars
Correct loss of facial volume in the temple area
Correct tear troughs (grooves below the lower eyelid)
Dr. Kurkjian may recommend filler injections in conjunction with other skin care treatments to enhance the overall outcome.
Kurkjian Aesthetic Membership
Looking to save on injectables? Our Kurkjian Aesthetic Membership program is an aesthetic membership program that allows you to bundle injectable treatments into an affordable monthly subscription—enabling you to maintain your desired look throughout the year at a more budget-friendly price than paying individually for each injectable session. As a Kurkjian Aesthetic Member, you will also be able to attend exclusive events at our practice, as well as receive other significantly discounted and/or complimentary aesthetic services twice per year.
Learn more about the Kurkjian Aesthetic Membership program.
Natural Looking Results
At Kurkjian Aesthetics, our main goal is to provide you with natural-looking results. Our hope is that with our minimally invasive techniques, you will look like a more refreshed version of yourself!
Contact Our Practice
If you are interested in cosmetic injectables and/or dermal fillers, please do not hesitate to schedule a consultation at our practice by contacting us online or by phone today.