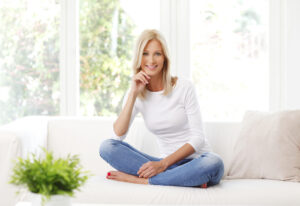 This is a question I frequently hear from women and men who are seeking to achieve a slimmer, more toned midsection after traditional means of diet and exercise have failed to produce the results they desire. While both surgical options can effectively sculpt the midsection for an aesthetically improved contour, the answer will depend on the underlying cause(s) of each individual's cosmetic concerns.
If your issue pertains solely to a buildup of excess fat in and around the abdominal region, liposuction may be the more appropriate option. Designed to remove localized pockets of fatty tissue, liposuction can be used to meticulously sculpt the targeted treatment area until an optimal contour is achieved. The one caveat is that liposuction alone is only ideal for patients with good skin elasticity. Our goal is to have the skin contract down to the new contour once the desired fat is removed by liposuction. Often as women age or become pregnant, the skin can no longer "tighten up" – even with weight loss or liposuction. If you feel that you have loose skin as well as fat, liposuction alone is not the best fit for you.
On the other hand, for patients with loose redundant skin (with or without the accumulation of excess fat) in the midsection, tummy tuck surgery may be a better option. Also referred to as abdominoplasty, this extremely popular aesthetic treatment is designed to eliminate lax, sagging skin while tightening the underlying muscles of the abdominal wall. If indicated, liposuction can also be employed in conjunction with tummy tuck surgery to extract any undesired fat buildups and "fine-tune" the final outcome.
Ultimately, if you are interested in improving the appearance of your midsection, my advice is to seek the expertise of a board certified plastic surgeon who has extensive experience with both liposuction and abdominoplasty. Following a thorough assessment, he or she should be able to recommend the most appropriate technique for your specific needs and desires.