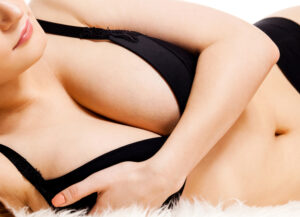 Procedure: Approximately 2–3 hours
Anesthesia: General anesthesia
Recovery: About 7 days (for office jobs and non-strenuous activities)
Post-op Visits: 1 day, 1 week, 3 weeks, 6 weeks, 6 months
Cost: Starts at $12,000
What Is a Breast Reduction?
Breast reduction—also known as reduction mammoplasty—is designed to correct the size and shape of overly large breasts, making them more proportionate to one's body. This surgical procedure may be indicated for women who have heavy breasts that are causing neck pain, back pain, shoulder strap grooving, or skin rashes. It can also be a good option for individuals who find it uncomfortable and/or embarrassing to wear particular articles of clothing or participate in certain physical activities due to the size of their breasts.
Formulating a Personalized Breast Reduction Plan
At our practice, board-certified plastic surgeon Jon Kurkjian, MD customizes breast reduction surgery to meet the unique needs and desires of every patient while maximizing aesthetic results. To begin the consultation process, he will perform a complete assessment of your breast size and contour, general health condition, and medical history to decide whether you are a candidate for the procedure. After this evaluation, he will discuss your desired breast shape and size to understand your goals, allowing him to provide guidance on the most appropriate technique for your body.
From the first office visit to the final post-operative appointment, Dr. Kurkjian is dedicated to providing an unmatched level of personalized care and attention. He recognizes how busy life today is for many individuals, which is why he employs a meticulous surgical approach and specialized healing regimen that helps to produce excellent outcomes while accelerating a return to normal daily routines. To learn more about the various advantages, techniques, and specifics of breast reduction, please feel free to explore the information below, or contact our practice today to schedule a consultation.

Dr. Kurkjian is an amazing Doctor! He is professional, honest, informative and very polite. You can tell he is proud of his work and that is why I schedule my surgery on the day of my consultation. His staff makes you feel comfortable and Cari is just plain the sweetest with a great attitude. I had a breast reduction about two weeks ago and I am loving my results! I am glad that after so much research I chosed Dr. Kurkjian for my surgery.

Diana Munoz

May 30, 2017

12345
What Are the Benefits of Breast Reduction?
A breast reduction involves the removal of excess fat, glandular tissue, and skin from the breasts. The goal is to reshape the breasts to be smaller, firmer, lighter, and perkier. Often, patients find that their reduced breasts are much more proportionate with the rest of their body. Based on your needs and goals, key benefits of reduction mammoplasty can include:
Reduction of breast size and breast weight
Improved breast shape
Reduction in areolar size
Elevation of the breast mound
Elevation of the descended nipple-areolar complex
Who Is a Good Candidate for Breast Reduction Surgery?
Overly large breasts can potentially cause physical issues, such as chronic neck, shoulder, and back pain. Women who experience this discomfort as a result of their breast size are typically considered good candidates for breast reduction surgery. Additionally, breast reduction may be right for you if you experience one or more of the following concerns:
Low self-esteem or other emotional issues as a result of your breast size
Difficulty finding clothing that fits properly; especially tops and dresses
Breast discomfort during certain physical activities
Soreness from bra straps digging in
Trouble finding bras that fit well and/or offer proper support
Irritation and rashes under or around the breasts
To find out if breast reduction may be right for you, please schedule a consultation with Dr. Kurkjian. During your meeting, he will conduct a thorough examination and review your individual goals to determine if you are an appropriate candidate for treatment.
Will I Need a Breast Lift in Addition to My Breast Reduction?
In general, the majority of women who are interested in breast reduction will also require a breast lift (though this does not mean a separate procedure will need to be performed). When excess breast tissue and volume is removed during a breast reduction, there is usually some residual loose, hanging skin. Correcting this extra skin and any drooping present is accomplished via a breast lift, ultimately helping to improve the elevation and projection of newly reduced breasts. During the consultation, Dr. Kurkjian will be able to determine whether or not you would benefit from a lift in combination with your breast reduction.
What Different Techniques Are Utilized for Breast Reduction?
A variety of techniques can be utilized to perform breast reduction, and Dr. Kurkjian's extensive training and experience in this breast enhancement option enables him to custom-tailor the procedure to meet your specific needs and cosmetic desires. The three primary approaches to breast reduction include:
Liposuction Only
Vertical Breast Reduction
Wise Pattern Breast Reduction
Dr. Kurkjian most commonly performs a vertical or wise pattern breast reductions, depending on the quantity of breast tissue and skin that needs to be removed. If only a moderate amount of volume needs to be removed, he will generally prescribe the vertical technique wherein the incision encircles the areola and extends vertically down the breast to the inframammary crease. When a significant volume reduction is needed, the wise pattern technique will be recommended. The incision for this approach goes around the areola, continues down to the bottom of the breast, and extends horizontally along the inframammary fold (resembling the shape of an anchor). It is unusual for an individual to only require the extraction of fat in order to achieve their goals, though liposuction alone can be employed for qualified patients. More commonly, liposuction is used to further enhance the outcome of either the vertical or wise pattern method.
Ultimately, there are pros and cons to each breast reduction approach, all of which can be extensively covered in-person with Dr. Kurkjian during a consultation. Following an evaluation of your particular needs and goals, he can identify which technique would be most appropriate for your unique situation.
What Is the Breast Reduction Procedure Like?
During the breast reduction procedure, excess breast tissue and/or fat is removed, and any loose, extra skin is excised. The remaining tissue is then raised and recontoured until an optimal breast shape is achieved, and tiny sutures are used to reattach the skin with the utmost precision. A key element of Dr. Kurkjian's approach to breast reduction is to minimize any potential recovery and downtime by creating as little tissue trauma as possible. Throughout surgery, he is careful to avoid contact with the ribs, and his technique for making incisions limits any undue injury to tissues. Furthermore, Dr. Kurkjian strives to inhibit bleeding during the procedure, which helps to lessen the possibility of post-operative discomfort and/or bruising.
What Can I Expect During Breast Reduction Recovery?
Dr. Kurkjian performs breast reduction surgery on an outpatient basis under general anesthesia, so patients are usually able to return home the same day with the assistance of a friend or family member. There will likely be some swelling and/or bruising in the breasts initially, but these symptoms are generally mild and should resolve quickly due to Dr. Kurkjian's meticulous surgical technique. Pain is rare following surgery, though some degree of soreness can be expected within the first couple days of recovery. The majority of individuals feel well enough to return to office jobs, school, or other non-strenuous activities after approximately five to seven days, but Dr. Kurkjian instructs patients to avoid any vigorous exercise or intense physical activities for at least four to six months to give the breasts ample time to heal.
Dr. Kurkjian and our team endeavor to develop a strong relationship and establish clear lines of communication with every patient who comes to our practice seeking aesthetic care, and we take great pride in the fact that no individual is merely a number to us. Throughout the entirety of the recovery process, we will be happy to answer any questions or address any concerns you may have—whether you wish to speak over the phone or in person.
What Will My Breast Reduction Scars Look Like?
The appearance of your breast reduction scars will ultimately depend on the specific technique used during the procedure, as well as factors such as genetics and how closely aftercare instructions are followed. In most cases, Dr. Kurkjian employs either the vertical or wise incision method, as described above. Both incision patterns go around the perimeter of the areola, and then vertically down the lower portion of the breast—with the wise pattern also extending horizontally to some degree along the inframammary crease. The resulting scars typically fade nicely over time, particularly when recovery advice and scar care directions are heeded. Once fully healed, the scar around the areola generally blends well into the darker skin pigment (becoming virtually undetectable), and the other incision lines can usually be concealed by most tops, bras, and bikini styles. Ultimately, most women find that the benefits of the procedure—including relief from physical and emotional pain—greatly outweigh any concern regarding the appearance of scars.
How Much Does Breast Reduction Cost?
The average cost for breast reduction at our Fort Worth practice usually starts at $12,000, though exact pricing can vary based on your individual needs and aesthetic goals. Generally speaking, the total expense of breast reduction surgery is determined by numerous factors, such as the surgeon's fee, medication costs, facility charges, pre- and post-surgical testing, anesthesiologist's fee, post-op garments, and more.
To get a more accurate price estimate, please contact us to schedule a consultation with Dr. Kurkjian. Following a detailed discussion and examination, he can provide you with a personalized quote based on the specifics of your customized surgical plan. If you are interested in setting up a payment plan for your procedure, we offer several plastic surgery financing options, enabling qualified patients to make monthly payments with little or no interest. Our staff can help you navigate these options and apply for the program that best meets your needs.
Book a Breast Reduction Consultation
For more information about breast reduction, or if you would like to schedule a consultation with Dr. Kurkjian, please contact our practice online or by telephone today.