Procedure: Approximately 2.5–3.5 hours
Anesthesia: General anesthesia
Recovery: About 7 days (for office jobs and non-strenuous activities)
Post-op Visits: 1 day, 1 week, 3 weeks, 6 weeks, 6 months
Cost: Starts at $14,500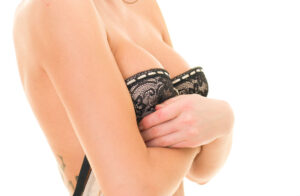 Breast lift with implants, also referred to as breast augmentation-mastopexy (BAM) or breast lift with augmentation, is a procedure designed to enhance the contour, size and position of the breasts for a more youthful shape and improved overall appearance. Using this technique, excess breast skin is removed and tightened to help elevate the breasts on the chest wall, and implants are placed to increase the volume of the breasts. In addition, the nipple-areolar complexes can be resized and repositioned for an optimal outcome.
During your consultation, our board-certified plastic surgeon—Dr. Jon Kurkjian—will perform a thorough assessment of your breast size, contour, and skin elasticity, also taking into account the current symmetry and proportion of your breasts in relation to your figure. The specific measurements taken at this time help to determine if an augmentation-mastopexy is indeed the best treatment option, or if a breast augmentation on its own would be more appropriate. Generally speaking, when the distance between the nipple and the inframammary crease below the breasts is at least 9-10 cm at maximal stretch, a breast lift with augmentation is the right choice. In the event this measurement is below 9 cm, breast augmentation using a dual-plane technique may be more ideal.
After measurements have been taken, advanced VECTRA® XT 3D imaging can then be used to provide an ultra-high resolution simulation of how your breasts may appear with various implant options following a lift (or without a lift). No longer does choosing the right breast implants have to be a guessing game! Based on this evaluation and imaging information, Dr. Kurkjian will formulate a detailed operative plan that addresses your concerns and helps to achieve your aesthetic goals.
While some patients want larger implants, more and more patients are choosing smaller breast implants to fit their lifestyle. Dr. Kurkjian is committed to altering your operation to fit your personal taste and style.
Dr. Kurkjian is extensively trained in breast enhancement surgery and can custom-tailor the augmentation-mastopexy procedure to address your specific needs and attain your desired outcome with exceptionally natural-looking results. From start to finish of the treatment process, he and our team will provide personalized attention and an unmatched quality of care to ensure you get back to your normal daily routine with as little recovery and downtime as possible. To learn more about breast lift with implants, we encourage you to continue reading the information below, or contact our practice today to schedule a consultation.
Benefits of a Breast Lift with Implants – Rejuvenating Your Figure
Although breast augmentation can add size and fullness to the breasts, implants alone cannot correct a considerable amount of excess skin and sagging tissues. Similarly, a breast lift can restore a more youthful aesthetic by elevating the breasts, but the procedure by itself cannot significantly increase breast volume. By combining these two procedures, patients can receive a number of benefits, including:
An increase in breast size and volume
A rejuvenated breast position on the chest wall
An enhanced overall breast shape and projection
Improved breast symmetry
Firmer, more youthful-looking breasts
Augmentation-Mastopexy Techniques and Considerations
The various techniques for breast augmentation with a lift vary widely. Fortunately, Dr. Kurkjian has the specialized training and experience in breast enhancement to be able to customize the augmentation-mastopexy procedure to meet the specific needs and desires of each individual. The following information contains many of the details that will be taken into consideration and discussed at the time of your consultation.
Breast Implant Shape and Composition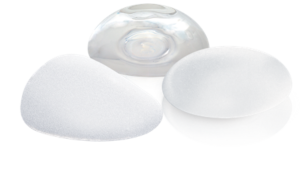 Patients at our practice can choose between round or anatomically contoured implants. For women who wish to achieve more fullness in the upper pole (upper portion) of the breasts, Dr. Kurkjian will generally recommend a round implant. For those seeking a more natural breast contour with most fullness distributed toward the lower portion of the breasts, he will typically suggest an anatomically shaped implant.
The two options for implant composition are saline and cohesive silicone gel. In general, advantages of saline implants are that they tend to be less expensive and any deflation is identifiable right away as the size of the implant will noticeably change. This implant option is often best for women who have a substantial amount of breast tissue which can hide any rippling in the device; however, as a result of their rounder shape, saline implants have a tendency to displace laterally and inferiorly more often than their silicone counterparts.
Based on what Dr. Kurkjian has seen in his own patients, the benefits of silicone breast implants are that they more closely resemble the look and feel of natural breasts, they are less likely to show rippling, and they typically remain in position better over time due to their flat posterior surface. The most commonly used breast implant is the round cohesive silicone gel implant; however, Dr. Kurkjian also uses the highly cohesive silicone gel, or "gummy bear," implants in both a round and shaped form. The shaped highly cohesive silicone gel implants are often the ideal choice for patients who have minimal breast tissue and need the implant to produce the majority—if not all—of their breast shape.
During the consultation, Dr. Kurkjian will guide you through all of your breast implant choices, identifying the pros and cons of each based on your particular goals and the amount of breast tissue you have. For more information about implant options, please check out our page devoted solely to breast implants.
Breast Implant Size
When breast augmentation and mastopexy are performed in combination, it is critical to understand that there is a limit on the size of breast implants that should be utilized. When too large of an implant is placed, the breast skin will not be able to sufficiently support the weight of the implant over time, eventually compromising the results of surgery. The skin has already shown that it will stretch (which is why a lift is needed in the first place), and it will do so again if the implant weighs too much. In addition to implant weight, other concerns associated with placing implants that are too big can include unsatisfactory scarring and possible distortion of blood flow to the nipple—both of which can generally be avoided with correctly sized implants.
Augmentation-Mastopexy Incisions
There are three incisional patterns that can be employed for a breast lift with implants:
Periareolar
Lollipop (Vertical)
Anchor (Inverted "T")
Similar to when he performs breast lift by itself, Dr. Kurkjian utilizes lollipop and anchor-shaped incisions to conduct most augmentation-mastopexies. For patients who have limited breast drooping, Dr. Kurkjian will generally use the lollipop incision pattern that extends around the perimeter of the areola and continues vertically down to the inframammary fold beneath the breast. For cases in which breast sagging is significant, he will employ the anchor-shaped incision that encircles the areola, extends down the underside of the breasts, and continues horizontally along the inframammary crease. Only in rare instances will the periareolar incision be utilized in isolation without the vertical or inframammary components.
Regardless of which technique is performed, the selected breast implants can be inserted and positioned without making any additional incisions.
Implant Positioning
The three breast implant placement options include subglandular, submuscular, and dual plane (a combination of subglandular and submuscular). For the majority of patients, Dr. Kurkjian places implants in the dual plane position, though special circumstances are taken into account for particular patients. For instance, if your job and/or lifestyle requires extensive training of the pectoralis major muscle, he might recommend subglandular positioning to limit implant mobility when that muscle is contracted. Another example would be if you have minimal tissue in the lower portion of the breast, in which case he may suggest a complete submuscular placement.
Wearing Bras After Surgery
Wearing a bra whenever possible after augmentation-mastopexy is imperative to maximizing the long-term success of the procedure. With time, numerous factors like gravity, weight change, and simply the natural process of aging will impact the appearance of your breasts, and the support offered by bras can help keep them in an optimal position while also slowing the progression of inevitable tissue sagging.
The Augmentation-Mastopexy Procedure
Depending on your individual needs and the size of your desired implants, breast lift with augmentation can be performed in combination or in two separate stages. When conducted simultaneously, an incision will generally be made around the outer edge of the areola and down to the fold underneath the breasts. If significant sagging is present, the incision may also extend horizontally along the breast crease.
Once the incision has been made, extra, drooping skin is excised and breast tissues are lifted to an elevated position on the chest. At this time, the nipple-areola complexes can also be resized and raised if needed and/or desired. The selected breast implants are then inserted through the same incision and carefully placed in the subglandular, submuscular or dual plane position. Dr. Kurkjian most commonly places implants in the dual plane position (which is partly subglandular and partly submuscular), though some individuals may be better candidates for subglandular or submuscular placement based on a variety of factors that can be discussed during the consultation process.
Once the implants are situated properly and an optimal breast shape and symmetry has been achieved, the skin is pulled tight and reattached beneath the breasts using tiny sutures. Typically performed on an outpatient basis, the entire procedure generally takes about three hours to complete, though this may vary by individual.
Breast Lift with Augmentation Recovery
A key aspect of Dr. Kurkjian's augmentation-mastopexy approach is his ability to help minimize potential recovery and downtime through meticulous surgical precision. Following the procedure, some mild swelling and/or bruising may be present, though these symptoms should subside relatively quickly. Initial soreness in the breasts is also a common side effect, but most patients report experiencing little to no pain, and any discomfort can usually be managed with minimal medication. The majority of individuals are able to resume non-strenuous activities and routines after about five to seven days, but Dr. Kurkjian advises that any strenuous activities and/or exercise be avoided for a minimum of four to six weeks to help ensure proper healing.
Our plastic surgery practice aims to form personal relationships and create open lines of communication with each individual who walks through our doors—patients are not simply numbers to us. Throughout the entirety of the augmentation-mastopexy process, we will be available to answer any question you may have and/or meet with you to discuss anything on your mind. Our ultimate goal is to help you achieve the look you desire with the level of care and attention you deserve.
How Much Does a Breast Lift with Implants Cost?
The cost of a breast lift with implants typically starts at $14,500. Keep in mind that your total cost will vary according to the details of your surgical plan. Our team will provide you with a personalized quote prior to your procedure to help you understand what to expect.
Contact Our Practice
If you would like more information about breast lift with implants, or if you wish to schedule a consultation with Dr. Kurkjian, please feel free to contact our practice today.