Fort Worth Plastic Surgeon Jon Kurkjian, MD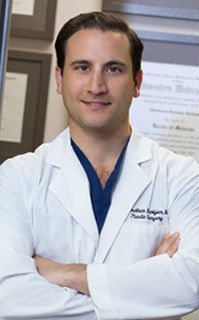 Dr. Jon Kurkjian [Kurk-gin] is a board-certified plastic surgeon with highly specialized training by many of the most renowned plastic surgeons in the world. Dr. Kurkjian's education began in Oklahoma City where he attended the college preparatory Heritage Hall School. During his time there, Dr. Kurkjian earned honors as a National Merit Scholar Finalist. He then attended the University of Oklahoma on a full academic scholarship. While in Norman, Dr. Kurkjian majored in microbiology earning a perfect 4.0 grade point average, graduating summa cum laude and was inducted into the prestigious Phi Beta Kappa honor society.
Dr. Kurkjian was awarded his medical degree at the University of Texas – Southwestern Medical School in Dallas where he graduated in the top 3% of his class. He was elected into the Alpha Omega Alpha Honor Medical Society for outstanding academic achievement. During medical school, Dr. Kurkjian conducted laboratory and clinical research on topics including cosmetic lasers, DIEP/TRAM breast reconstruction, liposuction and abdominoplasty.
After medical school, Dr. Kurkjian was selected to complete his plastic surgery residency at the University of Texas – Southwestern Medical School in Dallas, which was recently ranked the #1 training program in the United States by the U.S. News and World Report. As a resident, Dr. Kurkjian co-authored research focused on rhinoplasty, non-invasive cosmetic medicine, soft tissue fillers, brow-lifting, liposuction and abdominoplasty. He received the general surgery resident teaching award by the UTSW medical student class of 2009. In his last year of residency, Dr. Kurkjian was chosen by the faculty to serve as the administrative chief resident for the Department of Plastic Surgery. While in Dallas, Dr. Kurkjian was afforded the opportunity to learn from numerous international leaders in both reconstructive and cosmetic surgery.
Dr. Kurkjian chose to pursue a full year of additional training, in New York City, focused exclusively on cosmetic surgery. He was selected by the distinguished Manhattan Eye, Ear, & Throat Hospital Aesthetic Surgery Fellowship to train with internationally renowned aesthetic surgeons and NYU professors. During his year in New York City, Dr. Kurkjian enjoyed the opportunity to hone his skills in what was considered to be the highest volume cosmetic surgery hospital in the United States.
Dr. Kurkjian is a member of the clinical faculty at the University of Texas – Southwestern Medical School in Dallas where he participates in the education of plastic surgery residents and fellows as a Clinical Instructor of Plastic Surgery. He continues his involvement on a national level as an active member and invited speaker with the American Society for Aesthetic Plastic Surgery.
Click Here to View Dr. Kurkjian's CV
Doctor Highlights
Board-Certified Plastic Surgeon
Clinical Instructor of Plastic Surgery at the University of Texas – Southwestern at Dallas, TX
Aesthetic Surgery Fellowship – Manhattan Eye, Ear, & Throat Hospital, New York, NY
Plastic Surgery Residency at the University of Texas – Southwestern at Dallas, TX
Medical Doctorate at the University of Texas – Southwestern Medical School at Dallas, TX
Bachelor of Science – University of Oklahoma, Norman, OK
What Is a Plastic Surgeon?
The term "plastic surgeon" refers to a physician who has completed extensive training in both cosmetic and reconstructive surgery all throughout the body. This comprehensive instruction provides plastic surgeons with a complete understanding of the relationship between bone and soft tissue, enabling them to address aesthetic concerns, birth defects, trauma-related injuries, skin conditions, and more with optimal cosmetic results.
Why Choose a Board-Certified Plastic Surgeon?
Today, cosmetic procedures are offered by many different types of physicians—and even some non-physicians. As a result, it is critical for women and men interested in aesthetic enhancement to look for a key distinction in their potential surgeon: board certification by the American Board of Plastic Surgery (ABPS).
ABPS is one of 24 "Member Boards" officially approved by the American Board of Medical Specialties (ABMS), which is the only organization sanctioned by the government to certify medical specialty boards in the United States. Each recognized Member Board evaluates and certifies doctors who display the attitude, clinical judgement, and skill needed to provide excellent patient care within their particular specialty.
To obtain certification through ABPS, surgeons are required to complete no less than six years of accredited specialty training (with a minimum of three years dedicated to plastic surgery), as well as pass a strenuous exam process conducted by ABPS. Once certification is achieved, they must regularly participate in continuing education, pass re-examination every ten years (if certified after 1995), and uphold stringent standards of excellence in their practice.
Ultimately, the American Board of Plastic Surgery is the only ABMS-recognized board that assesses and certifies plastic surgeons, and ABPS certification is testament that your plastic surgeon has gone above and beyond the minimal requirements of becoming a physician capable of providing the highest caliber of safety, care, and professionalism.
How to Select the Best Plastic Surgeon for You
With the number of plastic surgeons in practice today, choosing the right doctor can be a daunting task for many individuals considering aesthetic surgery. To help make this process a bit easier, consider the following factors when making your decision:
Ensure your plastic surgeon is board-certified by the American Board of Plastic Surgery. There are many boards through which doctors can obtain certification, including the American Board of Cosmetic Surgery, the American Board of Surgery, the American Board of Facial Plastic and Reconstructive Surgery, and more. While all of these boards are legitimate in their own right, the American Board of Plastic Surgery is the only board sanctioned by the American Board of Medical Specialties (ABMS) to certify plastic surgeons. (The previous section on this page provides more information about the distinction of the American Board of Plastic Surgery.)
Make sure your plastic surgeon is both experienced and talented in the procedure(s) of interest. A great way to do this is to research your prospective doctor's education and credentials, as well as view before-and-after photos of people they have previously treated. If possible, speaking with former patients about their treatment experience and final outcomes can be another great way to assess a physician's skill and level of expertise.
Select a plastic surgeon with whom you can develop a strong relationship. In addition to performing your procedure(s), your doctor is going to be providing care both before and long after surgery. As a result, you want a physician who listens to and understands you, who communicates well with you, and who will deliver personalized attention from the initial consultation through the final postoperative visit.
If your plastic surgeon does not perform surgery in a hospital, ensure the facility in which they operate is accredited. Accreditation by organizations such as the American Association for Accreditation of Ambulatory Surgery Facilities (AAAASF) requires physicians to uphold the same standards of safety and excellence as hospitals.
Do not let "cost" solely dictate your decision. While lower prices can be alluring, keep in mind that cost is often a reflection of the plastic surgeon's expertise, as well as the level of care you can expect. If pricing is an issue, most practices offer plastic surgery financing options to fit virtually any budget.
In the end, if anything feels "off" or makes you uncomfortable, you have every right to continue your search for the best plastic surgeon for you. This is an incredibly important decision, so take your time, research extensively, and only move forward with treatment when you are one hundred percent comfortable with your choice.