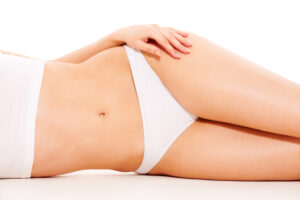 Excess fat deposits in specific areas of your body that do not respond to diet and exercise can be reduced with liposuction (lipoplasty) at our Fort Worth plastic surgery practice. Over the years, this popular aesthetic procedure has helped numerous women and men attain a slimmer, more toned physique with natural-looking results.

I did a lot of research before getting my breast augmentation and liposuction done. I read reviews for months. Dr. Kurkjian's were pretty amazing so I made a consultation appointment with him. I was just straight up impressed by Dr. K and ALL of his staff. He listened to everything I wanted and helped me understand what was right for me. Very knowledgeable and realistic about what would and wouldn't work out. I set up my surgery and it went perfectly. He did everything that I asked for and the results fantastic!!! Everyone has been super nice and helpful every step of the way. I will be going back to him if I ever want anything else done in the future and would recommend him to anyone!!

Tiffaney Storrs

February 06, 2017

12345
Liposuction Candidates
Ideal candidates for liposuction surgery are typically those who have excellent skin tone or tissue elasticity along with isolated areas of excess fat. During the consultation, our board-certified plastic surgeon—Dr. Jon Kurkjian—will examine your area(s) of concern, the laxity of affected skin, and the amount of accumulated fatty tissue. He will then review your medical history to ensure there are no health and/or safety issues, and he will determine the best liposuction option for your unique needs and goals.
Overall, liposuction is an exceptional method to improve your body proportions and contours. With an in-depth knowledge in traditional and advanced liposuction techniques, Dr. Kurkjian can provide customized treatment that helps you effectively achieve your body sculpting goals.
Benefits of Liposuction – Improve Your Body Contour
Liposuction surgery performed by Dr. Kurkjian can be an ideal procedure to reduce stubborn fat pockets in:
Abdomen
Hips
Buttocks
Thighs
Legs
Knees
Ankles
Arms
Neck
Due to the simplicity and efficacy of treatment, liposuction can often be an excellent complement to tummy tuck surgery, thigh lift surgery, and various other aesthetic procedures. As an additional benefit, since these fat cells have been eradicated, the results achieved with liposuction can be long lasting when a nutritious diet and well-balanced lifestyle is maintained after treatment.
Liposuction Techniques
During his plastic surgery residency in Dallas and aesthetic surgery fellowship in New York City, Dr. Kurkjian received extensive training from pioneers in the field of liposuction. He will review the various methods of liposuction and work with you to determine the ideal technique for your goals. The three lipoplasty methods offered at our practice include traditional liposuction, power-assisted liposuction (PAL), and ultrasound-assisted liposuction (UAL).
Traditional Liposuction
Sometimes referred to as suction-assisted lipoplasty, this standard liposuction technique uses a small cannula attached to a suction device to disrupt and remove excess fatty tissue through tiny incisions made in the targeted area(s). To help limit potential bruising, bleeding, and/or postoperative discomfort, a saline solution (known as tumescent fluid) is dispersed throughout the treatment region during the procedure.
Power-Assisted Liposuction (PAL)
Similar to traditional liposuction, power-assisted liposuction utilizes a cannula and suction apparatus for fat disruption and removal, though the cannula is specially designed to vibrate in order to increase treatment efficiency. Tumescent fluid is also spread throughout the targeted area during the PAL procedure.
Ultrasound-Assisted Liposuction (UAL)
Ultrasound-assisted liposuction is a two step method that involves the use of non-invasive ultrasonic energy to first break up fat cells in the targeted region. Once the sound waves have adequately disrupted and liquified the localized fat tissues, a traditional suction device is used to extract the fat from the body. This technique can be especially beneficial for particularly dense, stubborn fat accumulation(s).
Liposuction Recovery & Post-Operative Care
Following liposuction, some degree of bruising and/or swelling can often be expected, but these symptoms should fade relatively quickly. No drains are used by Dr. Kurkjian when liposuction is performed alone without excisional techniques, though you will need to wear compression garments immediately after surgery to help facilitate healing. Depending on the number of areas treated, the volume of fat removed, and the specific technique employed, you may be able to return to work within three to seven days after liposuction.
Our practice provides comprehensive care to ensure your postoperative experience is as quick and uneventful as possible. You will be given detailed instructions regarding your diet and activity to optimize your recovery after liposuction, and Dr. Kurkjian and our team are always happy to provide advice and assistance for anything you may need along the way.
Contact Our Office
If you are considering liposuction and would like to schedule a consultation with Dr. Kurkjian, please do not hesitate to contact our office today.