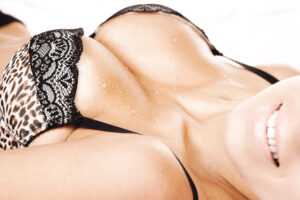 At Kurkjian Plastic Surgery + Aesthetics, our Fort Worth plastic surgeon, Jon Kurkjian, MD, provides a range of cosmetic breast surgery procedures to address aesthetic concerns related to the breasts. The procedures we provide can enlarge, reshape or reduce the size of the breasts according to your anatomy and cosmetic goals.
Dr. Kurkjian has received extensive aesthetic fellowship training on procedures designed to improve breast size and shape. He also underwent training at the only National Cancer Institute-designated Cancer Center in North Texas, where he learned to perform some of the most highly advanced reconstructive techniques available. Whether you are wishing to increase or decrease your breast size or achieve a rejuvenated breast contour and projection, Dr. Kurkjian can custom-tailor a breast procedure to meet your needs with exceptional, natural-appearing results.
For more specific information about the various breast procedures offered at our practice, we encourage you to read the brief descriptions and/or follow the links provided below. Should you have any questions, or if you desire to schedule a consultation with Dr. Kurkjian, please feel free to contact us today.
Breast Augmentation
Breast augmentation can be an excellent option for women interested in enhancing the size, contour and/or overall appearance of their breasts. Dr. Kurkjian performs both implant-based breast augmentation and composite breast augmentation, the latter of which includes placement of a breast implant with simultaneous fat transfer.
Learn More about Breast Augmentation
Breast Implants
In today's age of plastic surgery, breast implants are available in a vast array of types, shapes, textures and sizes. With the help of VECTRA® XT imaging technology, Dr. Kurkjian will work closely with you to determine which implants can best achieve your augmentation goals.
Learn More about Breast Implants
Breast Lift
Also known as mastopexy, a breast lift is often a great surgical solution for individuals seeking to correct breast drooping caused by pregnancy, weight changes, aging and numerous other factors. By elevating and reshaping sagging breast tissue, Dr. Kurkjian can help you attain an enhanced and rejuvenated breast appearance.
Learn More about Breast Lift
Breast Lift with Implants
Breast lift with augmentation is a combination procedure that offers patients the benefits of both mastopexy and breast augmentation. This technique can be ideal for women who wish to raise the breasts to a more youthful position on the chest wall while also restoring and/or enhancing volume.
Learn More about Breast Lift with Implants
Breast Reduction
Breast reduction is an extremely rewarding procedure for individuals experiencing physical and psychological issues caused by the size and/or weight of overly large breasts. By customizing this treatment to your specific needs, Dr. Kurkjian can improve the volume and contour of the breasts to make them more proportionate to your unique frame.
Learn More about Breast Reduction
VECTRA XT 3D Imaging System
With the VECTRA XT 3D imaging system, you can conveniently view the potential results of your breast surgery procedure before ever stepping foot into the operating room! Using six different cameras, the VECTRA XT system takes pictures of your breasts from various angles and processes them to display a three dimensional image on a screen right in our office. Once generated, the image of your breasts can be manipulated based on the unique surgical plan Dr. Kurkjian has developed, enabling you to see the type of outcome that can realistically be achieved.
Learn More about VECTRA XT 3D Imaging System
Schedule Your Consultation
We strive to ensure the best results for each of our patients. For more information about any of our breast surgery options or to schedule a consultation for any procedure, please call us at 817-870-5080 or contact us online.