Procedure: Approximately 2–3 hours
Anesthesia: General anesthesia
Recovery: About 7 days (for office jobs and non-strenuous activities)
Post-op Visits: 1 day, 1 week, 3 weeks, 6 weeks, 6 months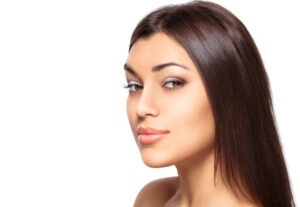 What Is Revision Rhinoplasty?
Revision rhinoplasty, also referred to as corrective rhinoplasty or secondary rhinoplasty, is a nasal procedure performed to correct breathing issues or cosmetic abnormalities that were caused—or left unresolved—by a previous rhinoplasty. Board-certified plastic surgeon Jon Kurkjian, MD completed specialized training with a focus on revision rhinoplasty under world-renowned secondary rhinoplasty surgeons, providing him with the knowledge and expertise necessary to help patients effectively address their concerns and achieve the quality of results they anticipated from their original nasal procedure.
Using 3D Imaging to Custom-Tailor a Revision Rhinoplasty Plan
Much like his approach to planning primary rhinoplasties, Dr. Kurkjian limits the focus of the revision rhinoplasty consultation exclusively to your own nose. This is because an "ideal nose" does not exist, and viewing pictures of friends or celebrities in an effort to find the perfect nose can often only lead to unrealistic expectations. Instead, Dr. Kurkjian will work closely with you to understand exactly why you are unhappy with the results of your previous rhinoplasty procedure and what you specifically wish to change about the appearance/function of your nose.
To help with this process, Dr. Kurkjian uses VECTRA® XT 3D imaging—an advanced camera system and computer technology located in our office that allows patients to see a three dimensional, high-resolution portrayal of how their nasal anatomy can realistically be adjusted during rhinoplasty. Once a digital picture of your face is exhibited on the screen, various alterations can be made until you and Dr. Kurkjian are both satisfied with the proposed treatment plan. For nose surgery in particular, VECTRA® imaging has truly improved doctor-patient communication and significantly advanced preoperative education, ultimately leading to high levels of patient satisfaction following surgery.
Once a customized procedural plan is set, Dr. Kurkjian will comprehensively discuss the details of treatment, including what to expect before, during, and after the operation. If you decide to proceed with revision rhinoplasty, he will put you in touch with a member of our staff who will assist you in booking a date for surgery.
What Are the Benefits of Revision Rhinoplasty?
Secondary rhinoplasty can be performed to help improve the following nasal issues and irregularities:
Unnatural nasal appearance
Crooked nasal tip
Hanging or retracted columella
Persistent nasal hump
Over-rotated or under-rotated nasal tip
Over-shortened nasal length
Nasal obstruction or breathing difficulties
Saddle nose deformity
Inverted V deformity
Displaced or exposed nasal implant
For each and every patient, the key aim of revision rhinoplasty is to help re-establish your nose to balance well with the rest of your facial features while successfully resolving any aesthetic and/or functional concerns.
Who Is a Good Candidate for Revision Rhinoplasty?
Good revision rhinoplasty candidates generally include individuals who are dissatisfied with the outcome of a previous nasal procedure, be it from an aesthetic standpoint, functional standpoint, or both. In addition, Dr. Kurkjian generally advises that patients be at least one year removed from their original procedure, as this provides ample time for any swelling to fully resolve and final results of the initial operation to be evident. As with any procedure, revision rhinoplasty patients must also be in good general health with no unmanaged medical concerns, be a non-smoker (or have quit smoking a minimum of six weeks before treatment), and have realistic expectations for what can safely and effectively be achieved. At the time of the initial consultation, Dr. Kurkjian will cover all of these requisites in complete detail to properly determine candidacy.
How Is the Revision Rhinoplasty Procedure Performed?
Revision rhinoplasty is typically performed using incisions made in the same area as the primary rhinoplasty procedure, which helps to limit any additional scarring. This may include making tiny incisions inside the nostrils ("closed" technique) or placing a small incision in the vertical strip of the nose ("open" technique). With either approach, soft tissue, cartilage, and bone is meticulously shaped and/or removed until the nasal passages are unobstructed and the desired contour is achieved. In certain instances, a cartilage graft transferred from the ear and/or rib may be needed to create an optimal outcome.
Depending on the complexity of the procedure, revision rhinoplasty can typically be completed in about two to three hours, and the majority of individuals can return home the same day with the aid of a close friend or family member. As a result of Dr. Kurkjian's extensive training and advanced surgical technique, virtually all secondary rhinoplasty patients at our practice benefit from a relatively smooth recovery with minimal discomfort and little—if any—noticeable postoperative scarring.
What Is the Revision Rhinoplasty Recovery Process Like?
Immediately following revision rhinoplasty, a nasal splint is generally placed to provide protection for the recontoured nose during the initial stages of healing. If cartilage grafting from the ear or rib was required, associated bandages may also be placed.
Patients will typically have their external nasal splint—as well as any sutures—removed about one week after surgery. Swelling and bruising are typical side effects after the procedure, but these symptoms are temporary and should gradually resolve on their own. Intense pain is uncommon, though any discomfort experienced can be alleviated with medication. Dr. Kurkjian does not "pack" the nose, as he feels doing so does not provide any significant advantages and usually leads to increased postoperative discomfort.
Most of our revision rhinoplasty patients return to work and normal daily routines after about seven days, but all strenuous activities will need to be avoided for several more weeks to help ensure proper healing. While the majority of swelling will usually have subsided within a week, it may take up to a year for all swelling to diminish entirely.
At our practice, Dr. Kurkjian and our team hope to provide every patient with a safe, comfortable, and rewarding experience. Individualized care and attention are a central focus, and we will be available to answer any questions or address any concerns that may arise throughout the entirety of the recovery process.
How Much Does Revision Rhinoplasty Cost?
The average cost of revision rhinoplasty at our Fort Worth practice typically ranges from $12,000–$16,000, which covers the plastic surgeon's fee as well as expenses for the operating center and anesthesia. Since Dr. Kurkjian personalizes each procedure based on the specific needs and goals of the patient, the exact price will depend on the extent of concerns being addressed and the overall complexity of the operation. If secondary rhinoplasty is being performed for medical purposes—e.g. to correct breathing complications—the treatment may be covered partially or fully by one's healthcare insurance provider. In the event the procedure is not covered by insurance, or if patients wish to pay out-of-pocket with financial assistance, our practice offers several plastic surgery financing options that can help break the expense into affordable monthly payments with minimal to no interest.
Contact Our Office
To learn more about revision rhinoplasty, or if you would like to schedule a consultation with Dr. Kurkjian to find out if this procedure is right for you, please contact us today.