Procedure: Approximately 2 hours (mini facelift alone)
Anesthesia: General anesthesia
Recovery: About 10–14 days (for office jobs and social events)
Post-op Visits: 1 day, 1 week, 3 weeks, 6 weeks, 6 months
Cost: Starts at $18,000
What Is a Mini Facelift?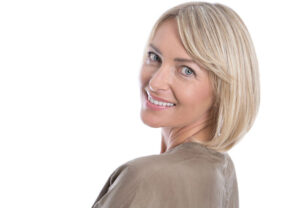 A mini facelift, or mini rhytidectomy, is a facial rejuvenation technique designed to reverse signs of aging using a shorter incision than traditional facelift surgery. Also known as a short scar facelift or short scar rhytidectomy, this procedure can often be a great option for individuals seeking to resolve minimal to moderate neck skin laxity and jowling for a more youthful appearance and less noticeable scarring. Board-certified plastic surgeon Jon Kurkjian, MD is subspecialty-trained in cosmetic surgery of the face, providing him the advanced skill and understanding of facial structures to achieve incredibly natural results. Above all, his aim is to ensure patients appear refreshed and revitalized while still looking like themselves.
Personalizing a Mini Facelift Surgical Plan
Dr. Kurkjian completed an aesthetic surgery fellowship in New York City, where he had the opportunity to learn from some of the original short scar facelift experts. This distinctive training experience allows him to custom-tailor each mini facelift procedure to meet the exact needs and goals of the patient.
During your first visit with Dr. Kurkjian, he will conduct a physical examination and evaluate your age, genetics, skin type, and tissue elasticity. Your cosmetic goals will also be discussed in full detail, enabling Dr. Kurkjian to gain a complete understanding of what you wish to achieve. Based on his assessment, he might recommend combining treatment with blepharoplasty, fat transfer, and/or other complementary options if an additional aesthetic procedure would help to enhance the overall outcome.
Once a custom mini facelift plan is agreed upon, Dr. Kurkjian will provide a comprehensive explanation of how the procedure will be conducted. He will also describe what to expect in regard to recovery, as well as spend time answering questions you may have about any aspect of treatment. If you are pleased with the approach and ready to proceed, a member of our staff will help you schedule a date for surgery. We can also assist you in exploring financing options in the event you desire a payment plan to cover the cost of treatment.
Ultimately, Dr. Kurkjian and our team strive to provide a pleasant and stress-free mini facelift experience, and we will do everything in our control to help you achieve your cosmetic goals with top-of-the-line care.
What Are the Benefits of a Mini Facelift?
Depending on one's specific needs and aesthetic desires, a mini facelift can help:
Improve lower facial skin sagging and drooping
Elevate the jowls
Lift up descended cheek fat
Soften smile lines and folds at the corners of the mouth
In comparison to a full facelift, additional benefits of mini facelift surgery generally include avoidance of a scar extending behind the ears and into the hairline, as well as a quicker recovery period.
Who Is an Ideal Candidate for Mini Facelift Surgery?
A mini rhytidectomy may be the best option for men or women who want to address minimal to moderate skin laxity, wrinkles, and other signs of aging in the lower face / upper neck region while avoiding a scar behind the ear and into the hairline. In Dr. Kurkjian's experience, patients in the 40–55 year old age group tend to be good short scar facelift candidates. That said, not everyone—despite whether they fall within this age range—is qualified for this facial rejuvenation technique. At the time of the consultation, Dr. Kurkjian will perform an extensive evaluation to determine if a mini facelift would be the most appropriate treatment for you. If he feels it would not sufficiently address your needs and concerns, he can recommend a more appropriate alternative.
How Is the Mini Facelift Procedure Performed?
Dr. Kurkjian performs the mini facelift procedure using a short-scar facelift incision that stops behind the ear and does not extend into the hairline. This allows patients to wear their hair up or short without any concern for a visible scar.
Once the incision is made, the SMAS layer is tightened to create a youthful contour of the face while avoiding excessive tension on the skin. The use of the stronger SMAS layer allows for a more natural and longer-lasting result than a skin-only tightening technique. When tightening of the SMAS layer is complete, only the excess skin is removed and the incision is carefully closed to promote optimal healing.
To fully address all aspects of facial aging, a mini facelift can be combined with fat grafting or eyelid procedures as needed. Since each surgical plan is customized to meet the unique needs of the individual, the exact approach and timing of treatment may vary on a case by case basis.
What Is Recovery from a Mini Facelift Like?
If desired, overnight nursing care can be arranged for the first night, though most patients feel comfortable enough to return home the same day of their mini facelift procedure with the help of a friend or family member. Mild discomfort, swelling, and bruising are common initially, but these side effects are temporary and should resolve over time. The application of cold compresses for the first 36 hours after surgery—along with keeping the head slightly elevated when possible—can help facilitate the resolution of these symptoms. The majority of individuals are able to return to a normal work routine and social calendar within 10–14 days after surgery; however, Dr. Kurkjian advises mini facelift patients to avoid strenuous activity for at least two to three weeks to ensure proper healing.
Throughout the entirety of the postoperative period, Dr. Kurkjian utilizes multiple follow-up visits to make sure results are satisfactory and healing is progressing as expected. Our team is always available to answer questions or address any concerns that might arise, and we make every effort to provide the level of care necessary for a smooth, stress-free recovery experience.
How Long Does a Mini Facelift Last?
The longevity of mini facelift results will vary by individual, though most patients can expect to enjoy the effects of treatment for about seven to ten years before signs of aging become noticeable enough to potentially consider another treatment. That said, women and men who received a mini facelift will usually look younger at this point in time than they would if they had not received a mini facelift in the first place. Despite any aesthetic concerns that eventually emerge years after treatment, it is important to note that many of Dr. Kurkjian's patients do not opt for a secondary procedure due to their satisfaction with the long-term outcome of their initial short scar facelift.
How Much Does a Mini Facelift Cost?
At our Fort Worth practice, the cost of a mini facelift starts at $18,000—though the exact expense will depend on the specific needs and goals of each patient. Generally speaking, key factors that can influence the price of surgery include:
The extent of aesthetic concerns present
The specific technique employed
The skill and experience of the surgeon
Fees for the operating facility and anesthesia
The geographic location of the practice
Dr. Kurkjian never wants cost to prevent someone from achieving their aesthetic goals, which is why we accept a number of payment plans made available via CareCredit® and various other healthcare lenders. These plastic surgery financing options are designed to work with almost any budget, allowing patients to cover the expense of treatment over the course of several months. If interested, a member of our team can help you get started with the approval process for your plan of choice.
Contact Our Practice
If you would like more information about mini facelift surgery, or if you wish to schedule a consultation with our experienced plastic surgeon, please feel free to contact us today.