Procedure: Typically 30 minutes or less
Anesthesia: Local or topical anesthesia
Recovery: Little to no downtime
Post-op Visits: Follow up is 2 weeks after and then 3 months
What Is KYBELLA®?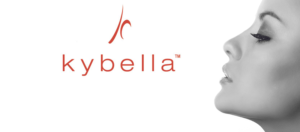 KYBELLA® is a non-surgical injectable treatment designed to eliminate submental fat and reduce the appearance of a double chin. This minimally invasive technique can be an excellent alternative to liposuction for women and men who are having trouble achieving their desired under-chin contour through diet and exercise alone, but who do not wish to undergo a surgical procedure or lengthy recovery process.
Board-certified plastic surgeon Jon Kurkjian, MD is highly skilled and experienced in performing KYBELLA® injections, and he possesses the artistic eye to ensure the results look as beautiful and natural as possible. By administering a series of customized treatments, Dr. Kurkjian can help you achieve a slimmer, more defined under-chin and jawline.
How Does KYBELLA® Work?
FDA-approved KYBELLA® is formulated with a deoxycholic acid-based mixture designed to destroy stubborn fatty tissue. Once injected, the unique solution works to immediately break apart localized fat cells in the treatment region. These fragmented fat cells are then gradually expelled from the body via natural metabolic processes, leaving behind an improved contour below the chin.
What Are the Benefits of KYBELLA®?
KYBELLA® provides several advantages for women and men seeking to improve the appearance of their upper neck region. Chief benefits can include:
Reduction of a double chin
Enhanced jawline definition
Short treatment time
Little to no downtime
No need for retreatment
Along with these benefits, KYBELLA® can often be easily performed in combination with other surgical or non-surgical treatments—such as facelift or dermal fillers—in the event a more comprehensive facial enhancement is desired.
What Is the KYBELLA® Treatment Like?
KYBELLA® treatments are performed in the comfort of our office by Dr. Kurkjian, usually taking 30 minutes or less to complete. During the procedure, the injections will be carefully and strategically administered into areas of excess fat beneath the chin and jawline using a very fine needle. If needed or desired, a local or topical anesthetic can be applied beforehand to maximize comfort throughout the injection process. Depending on the individual's unique needs and goals, a total of two to six KYBELLA® treatments spaced a minimum of one month apart may be necessary to achieve an optimal outcome. Following each session, patients are generally able to resume non-strenuous daily activities within one to two days, if not later the same day.
How Long Does KYBELLA® Last?
The slimming effects of KYBELLA® tend to gradually improve over the course of several weeks as the targeted fat tissue is eliminated from the body. Once the final outcome is apparent, the results should be very long-lasting. In fact, the majority of patients do not require retreatment in the future as long as a stable weight is maintained.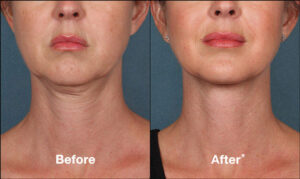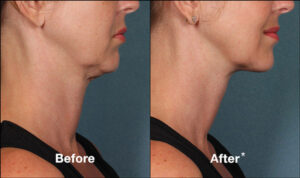 *Patient was not treated by Dr. Kurkjian or any of his staff
What Are the Most Common Side Effects of KYBELLA®?
Immediately after treatment with KYBELLA®, some degree of bruising, swelling, and/or tenderness throughout the submental region is common, but these side effects are temporary and should resolve with time. Pain is rare, though any soreness or discomfort that might occur can often be easily managed with medication and/or ice packs.
How Much Does KYBELLA® Cost?
The exact cost of KYBELLA® will depend on how many injections are administered per treatment, the specific formula dosage, and the total number of sessions needed to achieve the desired results. For those interested, Dr. Kurkjian accepts payment through CareCredit®—a healthcare lender that offers numerous plastic surgery financing plans that can break the expense of one's treatment into affordable monthly installments.
Schedule a Consultation
For more information about KYBELLA®, or if you are interested in treatment and would like to schedule a consultation with Dr. Kurkjian, please contact our practice online or by phone today.