Procedure: Approximately one to two hours (alone)
Anesthesia: General anesthesia
Recovery: About 1-2 weeks (work); 4-6 weeks (all activities)
Post-op Visits: 1 day, 1 week, 3 weeks, 6 weeks, 6 months
Cost: Starts at approximately $6,000
The face is typically the focus of most people's skin care routines, but over time, the neck can take on many of the same signs of aging. In addition to wrinkles and sagging skin, the neck can develop prominent vertical bands caused by the platysma muscles as well as "crepey" skin due to thinning. To rejuvenate the neck and create a more youthful contour, our board-certified plastic surgeon, Dr. Jon Kurkjian, performs both mini and full neck lift procedures.
What Is a Neck Lift?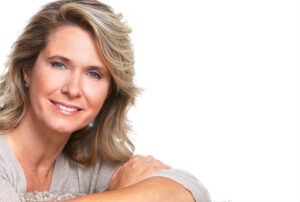 Neck lift surgery, or platysmaplasty, can address sagging skin, wrinkles, and banding to create a smooth neck and jawline. Neck lifts are performed different ways by different surgeons and they often have different names. Dr. Kurkjian addresses poor neck contour with his deep plane mini-neck lift or deep plane full neck lift. After careful evaluation, Dr. Kurkjian will determine the extent of which deep plane neck procedures you may need. Some patients require only removal of the unwanted superficial and deep fat with repair of the platysma muscles. Other patients may require reduction of the submandibular glands and shaving of the digastric muscles in order to achieve the result that they are hoping to achieve. Depending on your unique needs, the procedure may be performed on its own or in conjunction with facelift surgery.
Dr. Kurkjian is an aesthetic surgery fellowship-trained plastic surgeon who is committed to providing reliable, safe, and customized solutions for every patient. Using state-of-the-art deep plane neck lift techniques, Dr. Kurkjian can address the underlying tissues with optimal skill and efficacy for a superior outcome.
Creating a Personalized Neck Lift Approach
Since his training by leading facial rejuvenation experts in both New York City and Dallas, Dr. Kurkjian has improved upon those techniques to advance his experience and approach to neck lifting.
During your initial consultation, Dr. Kurkjian will evaluate your overall health status and perform a thorough examination of bone structure, skin texture, and tissue elasticity in your neck and lower face. He will then discuss your cosmetic goals to gain a clear understanding of the look you wish to achieve. Based on all information acquired, he will recommend the surgical technique that best fits the appearance you desire, which may involve neck lift performed alone or in combination with a full or mini facelift.
Once a treatment strategy is agreed upon, Dr. Kurkjian will comprehensively detail what to expect before, during, and after neck lift surgery, as well as take the time to answer any questions or address any concerns you may have. If you are happy with the proposed plan and wish to move forward, a member of our team will assist you in booking a date for surgery. We can also discuss financing and payment plan options with you, if desired.
From your initial visit to your final follow-up appointment, Dr. Kurkjian and our staff aim to provide a relaxing, stress-free experience. Our ultimate goal is to ensure you are treated with an unequaled level of care that yields an optimal aesthetic outcome.
What Are the Chief Benefits of Neck Lift Surgery?
Neck lift surgery can help both women and men restore a more youthful neck contour and under-chin profile. More specifically, treatment can achieve the following:
Smoother skin underneath the chin
More defined jawline and neck profile
Tightened muscles to reverse neck banding
Reduction in excess submental fat (double chin)
For enhanced results, many patients opt to combine their neck lift with complementary procedures, such as a full or mini facelift and/or chin augmentation.
Am I a Candidate for Neck Lift Surgery?
When evaluating a patient, Dr. Kurkjian takes several factors into consideration to determine if they are a good candidate for a full neck lift or mini neck lift. Liposuction may be recommended in combination with a neck lift or performed on its own, and some individuals may benefit from a facelift in addition to their neck lift for a more thorough rejuvenation.
To establish which techniques may be appropriate for you, Dr. Kurkjian will look for the presence of lax skin, excess fat that needs to be removed or repositioned, and/or weakened platysma muscles. If neck banding is present, he will consider whether this occurs at rest (static) or with facial expressions (active). In addition, he will evaluate your neck for fullness of the digastric muscles or the submandibular glands.
In general, those experiencing the following concerns in the neck area are often ideal candidates for neck lift surgery:
Wrinkles and crepey skin
Sagging and loose skin beneath the chin
Vertical neck bands
Skin folds and prominent lines
Excess fat stored under the chin and on the nec
In addition to the cosmetic qualifications, it is important to be in overall good health without existing medical issues that could complicate the recovery process. If you are a smoker, it is strongly recommended to quit several months prior to surgery and refrain from smoking after the procedure, as well. Smoking at any time after a neck lift can significantly increase the risk of complications and may disrupt the final result.
During your initial consultation, Dr. Kurkjian will evaluate your needs and goals to determine whether a neck lift is the best option.
Do I Need a Neck Lift or Liposuction?
Patients with excess fat in their neck along with sagging skin and/or muscle banding typically require neck lift surgery with the addition of liposuction. In the event they only have excess fat in the superficial layer just below the skin, liposuction alone may be employed, requiring very small incisions and typically a short recovery period. While some patients only need liposuction of the subcutaneous layer, many patients also have deeper fat that is deep to the platysma muscle. This stubborn fat pocket is typically genetic and varies very little with weight changes. Dr. Kurkjian's deep plane mini or deep plane full neck lift are both targeted to address this deeper fat. Liposuction or KYBELLA® alone are ineffective for this specific fat pocket. Dr. Kurkjian's deep plane neck lift often incorporates liposuction of the neck or lower face to address signs of aging or unwanted fat.
How Is a Neck Lift Performed?
Traditionally, neck lift surgery has been limited to addressing fat beneath the skin and prominent platysma muscles, and when the skin is tightened, this often results in contour irregularities of the skin that is no longer smooth in appearance and little to no change in the overall shape of the neck. To ensure the best possible results, Dr. Kurkjian has found that contouring of the deep structures — such as the subplatysmal fat, digastric muscles, and submandibular glands — is necessary. During this "deep plane" technique, Dr. Kurkjian is able to intricately contour and reposition the neck's musculature to create smoother, more natural-looking, and longer-lasting results.
Dr. Kurkjian performs both mini and full neck lift procedures using deep plane techniques, which involves contouring the fat deep to the platysma muscles and occasionally the submandibular glands and digastric muscles. The components included in the deep neck work are driven by the anatomy and goals of each patient. Unlike traditional methods, a deep plane neck lift preserves as much of the existing subcutaneous fat as possible, which helps maintain healthy, smooth skin and a natural contour over time.
Full Deep Plane Neck Lift
Most patients in their 50s, 60s, and 70s require a full neck lift, which is often combined with a high SMAS deep plane facelift. Performed in the operating room under general anesthesia, small incisions for the full neck lift are made around the earlobe, behind the ear, and into the hairline. During the procedure, Dr. Kurkjian will tighten the platysma muscles, remove excess fat, and eliminate extra skin. Addressing these with the deep plane approach allows Dr. Kurkjian to create a naturally rejuvenated neck and more defined chin and jawline.
Total treatment time for neck lift surgery is generally about 1-2 hours, though this timeframe will be extended if other procedures are performed in combination. Dr. Kurkjian can provide a more specific estimate in regard to timing after developing a personalized approach during your consultation.
Mini Neck Lift
A mini neck lift, also called a short-scar neck lift, only requires a small incision under the chin to address the central neck area. Performed in the office or in the operating room, patients can undergo the mini deep plane neck lift under local anesthesia with light sedation. During the procedure, extra fatty tissue can be removed from both the subcutaneous layer and the deep layer beneath the platysma muscles. Dr. Kurkjian can also focus on the submandibular glands and digastric muscles, if needed, and repair the platysma bands. Some patients may benefit from the addition of liposuction on the sides of the neck, as well, for optimal contouring results.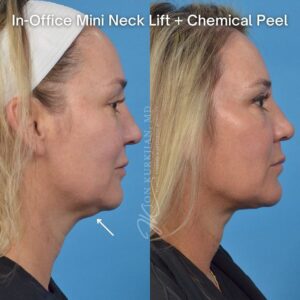 What Does Recovery from a Neck Lift Entail?
Dr. Kurkjian usually performs the neck lift procedure at an outpatient surgery center or office-based operating room. Mini-neck lift surgery patients may return home the same day under the care and supervision of a friend or family member. Full neck lift patients are highly encouraged to stay within 5 miles of our office location with after-care nursing care. This is to ensure that your immediate after-care needs are met and any issues that may arise can be addressed quickly. Local hotel and after-care options can be provided by our office.
A compression bandage will typically need to be worn under your jaw for 2 days following the procedure. Some minor swelling and bruising can be expected initially, but these symptoms usually resolve within a week. Dr. Kurkjian advises keeping the head and neck slightly elevated for at least 72 hours after surgery, as this can help facilitate recovery. The application of cold compresses during this time is also recommended.
The vast majority of patients usually get back to normal, light activities within 3-4 days of the surgery, though exercise and vigorous physical activities will need to be avoided for a bit longer. All post-operative restrictions are typically lifted after about 4-6 weeks.
Throughout the entire recovery process, Dr. Kurkjian uses several follow-up visits to monitor healing and ensure results are as expected. In addition, our staff is always available to answer questions or help address any concerns that might arise. Patients are not simply numbers at our office, and we strive to go above and beyond in the level of care we provide to ensure you have a safe and smooth recovery experience.
Will I Have Scars from Neck Lift Surgery?
Although incisions are a necessary part of neck lift surgery, Dr. Kurkjian takes great care to create them in discreet locations so that scarring is minimally visible. For example, in the full neck lift, the incisions may be placed below the earlobe, behind the ear, and along the lower hairline; and in the mini neck lift, the incision is placed beneath the chin, allowing for the scars to blend in with the patient's natural arcs. Patients will receive post-procedure instructions explaining proper care for their incisions, which should help enable neck lift scars to fade over time.
How Much Does a Neck Lift Cost?
The average cost of mini neck lift surgery at our practice in Fort Worth starts at approximately $6,000. A full neck lift surgery at our practice starts at approximately $14,000. The exact price of your procedure will be influenced by factors such as the extent of your aesthetic concerns, the particular technique utilized, and whether or not other treatments are performed simultaneously.
It is important to note that pricing for neck lift surgery — and most other cosmetic procedures — is generally reflective of the overall training, skill, and experience of the plastic surgeon, as well as the city or area of the country in which they are located. For this reason, searching for a doctor based on cost alone is not typically recommended. While Dr. Kurkjian would discourage discount shopping for surgery of your face and neck, he would also warn against assuming that exorbitant 6-figure pricing reflects quality of work. Extremely high pricing is often a result of social media attention and little else.
Should the expense of neck lift surgery be an issue, Dr. Kurkjian accepts numerous payment plan options made available through reputable plastic surgery financing companies like CareCredit®, Prosper HealthCare Lending, and more. These organizations offer several affordable plans made to fit virtually any budget. At the time of your consultation, a member of our team would be happy to get you started on the application process for the plan of your choice.
Can I Get a Neck Lift Without Surgery?
While neck lift surgery is the most effective option for achieving a significant neck rejuvenation, non-surgical treatments may be beneficial for some individuals. For patients wanting to diminish more subtle signs of aging, such as lines and wrinkles, the non-invasive BroadBand Light (BBL) therapy and Sciton Halo procedure can provide improvement to skin quality, texture, tone and fine lines. By delivering controlled light energy to the epidermis and dermis, the body's natural healing response is activated, leading to smoother, younger-looking skin.
If a patient has loose skin and neck banding, neck lift surgery is typically necessary to resolve the concerns. However, neuromodulators (BOTOX® Cosmetic and Dysport®) and dermal fillers help soften the appearance of vertical neck bands and produce a smoother skin surface. While the results of these treatments do not last as long as a neck lift, they can provide a temporary rejuvenation.
Dr. Kurkjian will be happy to evaluate your skin during the initial consultation to determine whether a surgical neck lift or a non-surgical alternative may be right for you.
Contact Our Practice
If you would like more information about neck lift surgery, or if you wish to schedule a consultation with Dr. Kurkjian, please feel free to contact us today.