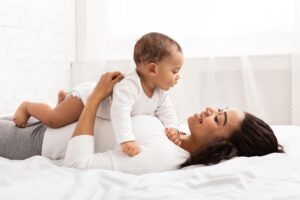 A woman's body goes through many changes during pregnancy, and some of these may stick around for years. Those wanting to "bounce back" after having a baby might be frustrated when their body doesn't revert back to how it was pre-pregnancy. For some mothers, weight gain from pregnancy can be lost and loose abdominal skin can naturally tighten again, but other changes may not resolve on their own.
A common side effect of pregnancy that may not go away is a belly bulge, which is caused by the abdominal muscles stretching to accommodate the growing baby. Known as diastasis recti, this condition causes separation of the muscles, leading to a protruding stomach area. While many cases can heal on their own, numerous women find their diastasis recti is there to stay. When this happens, the only way to resolve the condition is through muscle repair during tummy tuck surgery.
Another common post-pregnancy concern that may not go away is sagging skin in the midsection. When the abdominal skin stretches so far, it may not be able to tighten back to normal, making some women feel self-conscious. Fortunately, those who are unhappy with this change can also benefit from tummy tuck surgery, which removes excess skin and tightens the area for a smooth midsection.
In addition to unwanted changes in the abdomen, a woman's breast shape may look different after having a baby. Volume loss and stretching of the breast ligaments can cause a sagging, deflated appearance. Through breast augmentation, breast lift surgery, or a combination of the two procedures, women wanting to enhance their breast shape can achieve a more youthful, full appearance.
These are just a small collection of the changes some women may experience after pregnancy, but they are some of the most common side effects that many mothers struggle to restore back to their pre-baby appearance. If you have multiple post-pregnancy body changes that seem to be permanent, you may be a good candidate for a mommy makeover. This comprehensive treatment plan combines multiple procedures to address the areas that bother you most, helping you feel confident and like yourself again.
If you have any questions about how you can enhance certain body areas after pregnancy, please contact us to schedule a consultation with our board-certified plastic surgeon. We look forward to helping you feel beautiful again!