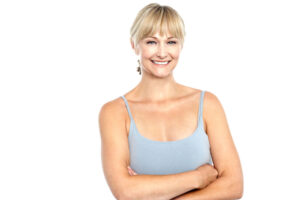 Noticeable scarring following breast lift surgery (mastopexy) is a concern many prospective patients share. Unfortunately, some degree of scarring after mastopexy is unavoidable, as the removal of excess skin and the reshaping/repositioning of breast tissues requires the employment of strategically placed incisions. Depending on your unique needs and breast anatomy, the incision pattern utilized may encircle the areola and continue down the underside of the breast to the inframammary crease (forming the shape of a lollipop), or it may encircle the areola, continue down to the inframammary crease and extend horizontally along the fold (creating an anchor shape).
Regardless of which incision pattern is used, the vast majority of plastic surgeons make every effort to limit the postoperative visibility of any possible scarring. For example, in addition to taking a meticulous approach to surgery, I employ an advanced scar management method at my practice called embrace® Active Scar Defense. This innovative technique utilizes "tension off-loading" to help reduce the formation of conspicuous scarring. Typically applied overtop the incision approximately two to four weeks post-surgery, embrace® consists of a silicone-based adhesive dressing that aids in the stabilization of healing tissues, helping to decrease tension and protect against any stress generated by various body movements. Thanks to this tension off-loading, potential scar tissue formation can often be significantly diminished.
Ultimately, the appearance of scarring from breast lift surgery will vary by individual, but any scars that do form can generally be concealed underneath most underwear and bathing suit varieties. Additionally, most patients find that the final results of their mastopexy far outweigh any reservations they may have had about postoperative scarring.
– Dr. Jon Kurkjian, Board Certified Plastic Surgeon
Contact Our Practice
If you have any additional questions, or if you wish to schedule a consultation with Dr. Kurkjian, please contact our office today.