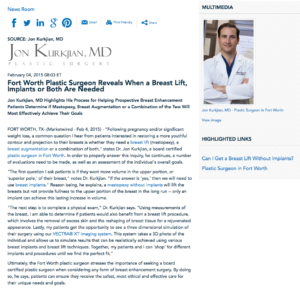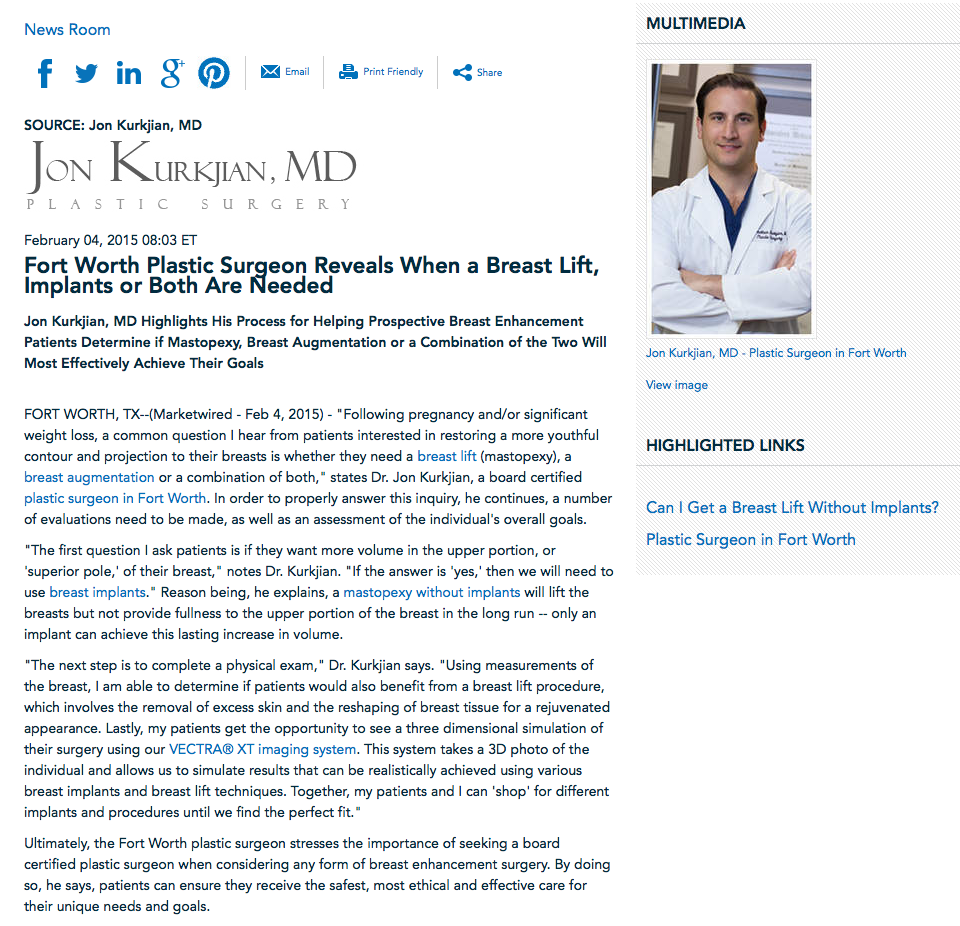 Jon Kurkjian, MD highlights his process for helping prospective breast enhancement patients determine if mastopexy, breast augmentation or a combination of the two will most effectively achieve their goals.
Fort Worth, TX — "Following pregnancy and/or significant weight loss, a common question I hear from patients interested in restoring a more youthful contour and projection to their breasts is whether they need a breast lift (mastopexy), a breast augmentation or a combination of both," states Dr. Jon Kurkjian, a board certified plastic surgeon in Fort Worth. In order to properly answer this inquiry, he continues, a number of evaluations need to be made, as well as an assessment of the individual's overall goals.
"The first question I ask patients is if they want more volume in the upper portion, or 'superior pole', of their breast," notes Dr. Kurkjian. "If the answer is 'yes', then we will need to use breast implants." Reason being, he explains, a mastopexy without implants will lift the breasts but not provide fullness to the upper portion of the breast in the long run – only an implant can achieve this lasting increase in volume.
"The next step is to complete a physical exam," Dr. Kurkjian says. "Using measurements of the breast, I am able to determine if patients would also benefit from a breast lift procedure, which involves the removal of excess skin and the reshaping of breast tissue for a rejuvenated appearance. Lastly, my patients get the opportunity to see a three dimensional simulation of their surgery using our VECTRA® XT imaging system. This system takes a 3D photo of the individual and allows us to simulate results that can be realistically achieved using various breast implants and breast lift techniques. Together, my patients and I can 'shop' for different implants and procedures until we find the perfect fit."
Ultimately, the Fort Worth plastic surgeon stresses the importance of seeking a board certified plastic surgeon when considering any form of breast enhancement surgery. By doing so, he says, patients can ensure they receive the safest, most ethical and effective care for their unique needs and goals.
About Jon Kurkjian, MD
Dr. Kurkjian is a board certified plastic surgeon in the Dallas-Fort Worth area. A graduate of the University of Oklahoma, he obtained his medical degree from the University of Texas – Southwestern Medical School and completed his Residency in Plastic Surgery at the University of Texas – Southwestern in Dallas. In addition, he completed a Fellowship in Aesthetic Surgery at New York City's Manhattan Eye, Ear, & Throat Hospital. Dr. Kurkjian is available for interview upon request.
To learn more about Dr. Kurkjian, visit jkplasticsurgery.com.
Contact:
Jon Kurkjian, MD
800 8th Ave Suite #336
Fort Worth, Texas 76104
817-870-5080
Rosemont Media
858-200-0044
www.rosemontmedia.com