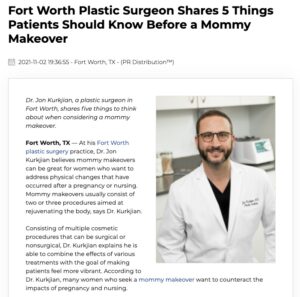 Dr. Jon Kurkjian, a plastic surgeon in Fort Worth, shares five things to think about when considering a mommy makeover.
Fort Worth, TX — At his Fort Worth plastic surgery practice, Dr. Jon Kurkjian believes mommy makeovers can be great for women who want to address physical changes that have occurred after a pregnancy or nursing. Mommy makeovers usually consist of two or three procedures aimed at rejuvenating the body, says Dr. Kurkjian.
Consisting of multiple cosmetic procedures that can be surgical or nonsurgical, Dr. Kurkjian explains he is able to combine the effects of various treatments with the goal of making patients feel more vibrant. According to Dr. Kurkjian, many women who seek a mommy makeover want to counteract the impacts of pregnancy and nursing.
Dr. Kurkjian shares five details people should know if they are considering a mommy makeover or if they simply want more information on the treatment.
1. What Does a Mommy Makeover Consist Of?
Mommy makeovers typically consist of a combination of two or more surgical and nonsurgical treatments. Potential surgical procedures that are frequently incorporated into a mommy makeover include a tummy tuck, breast lift, breast augmentation, labiaplasty, and liposuction. There are also non-surgical treatments that patients may wish to include in their mommy makeover, like cosmetic injectables, which can address facial lines, wrinkles, signs of fatigue, and aging.
2. Am I an Ideal Candidate for a Mommy Makeover?
Mommy makeovers are typically sought after by women who would like to reverse changes caused by pregnancy or nursing. However, some may seek a mommy makeover to address the natural aging process, as well. Those who are vying for a mommy makeover should ideally be in good health, says Dr. Kurkjian. He also believes the healthier a person is before their treatment, the safer they will be if general anesthesia is used during any of their procedures.
3. How Long Is the Recovery?
The recovery process for each person will be different, as every individual will have unique needs and a different combination of procedures being performed. Dr. Kurkjian's goal after a mommy makeover is to have the patient feeling great and back to their normal activities as soon as possible. The recovery of a mommy makeover will largely be based on which procedures are completed, how many are performed, and how invasive those procedures are, says Dr. Kurkjian. The estimated recovery time will be provided in full detail at pre- and post-operative consultations with Dr. Kurkjian in order to provide a better understanding of what is being undertaken.
4. What Are the Overall Benefits of a Mommy Makeover?
Dr. Kurkjian says the benefits of a mommy makeover vary from patient to patient, especially considering they all have unique needs and goals. However, he says most patients who elect to have a mommy makeover can see benefits such as:
Diminished signs of facial aging and fatigue
Reduced sagginess or droopiness in the breasts
Tightened stomach area and eliminated excess fat and skin folds
Eliminated unwanted fat from specific areas of the body
5. How Long Is the Overall Mommy Makeover Process?
The total length of the mommy makeover process will differ depending on the amount of treatment a given patient is receiving. However, Dr. Kurkjian says he strives to help patients get back to their normal life as quickly as possible. The entire process begins with contacting the practice so the initial consultation can be scheduled. The actual duration of the procedure or procedures will depend on how many treatments an individual is receiving and if those operations need to be scheduled at different times. At his practice, Dr. Kurkjian provides details of how long the entire process will take during the initial consultation.
About Jon Kurkjian, MD
Dr. Jon Kurkjian is a board-certified plastic surgeon based out of Fort Worth, Texas. He is highly experienced and specialized in a wide range of plastic surgery procedures, and has received training from world-renowned plastic surgeons. Finishing in the top 3% of his class, he received his medical degree at the University of Texas – Southwestern Medical School in Dallas. Dr. Kurkjian conducted laboratory and clinical research on topics such as cosmetic lasers, DIEP/TRAM breast reconstruction, liposuction, and abdominoplasty during the time he earned his medical degree.
To learn more about Dr. Jon Kurkjian, his practice, and the mommy makeover process, visit jkplasticsurgery.com, facebook.com/jonkurkjianmdplasticsurgery, and @dr_jon_kurkjian on Instagram. He is available for interview upon request.
Contact:
Jon Kurkjian, MD
5825 Edwards Ranch Rd
Suite #200
Fort Worth, TX 76109
(817) 756-9078
Rosemont Media
(800) 491-8623
www.rosemontmedia.com