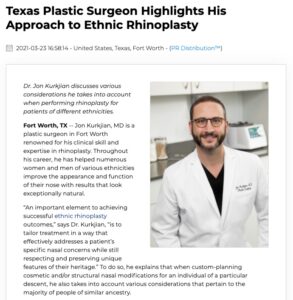 Dr. Jon Kurkjian discusses various considerations he takes into account when performing rhinoplasty for patients of different ethnicities.
Fort Worth, TX — Jon Kurkjian, MD is a plastic surgeon in Fort Worth renowned for his clinical skill and expertise in rhinoplasty. Throughout his career, he has helped numerous women and men of various ethnicities improve the appearance and function of their nose with results that look exceptionally natural.
"An important element to achieving successful ethnic rhinoplasty outcomes," says Dr. Kurkjian, "is to tailor treatment in a way that effectively addresses a patient's specific nasal concerns while still respecting and preserving unique features of their heritage." To do so, he explains that when custom-planning cosmetic and/or structural nasal modifications for an individual of a particular descent, he also takes into account various considerations that pertain to the majority of people of similar ancestry.
As an example, Dr. Kurkjian notes that many patients of Middle Eastern, African, Asian, and Hispanic descent have relatively thick nasal skin, which often requires a combination of surgical and non-surgical attention in order to maximize results. Frequently, this involves the employment of certain "de-fattening" techniques during surgery along with the use of medical-grade skin care products both before and after treatment—all of which help thin the skin to a degree that the enhanced definition of the underlying nasal framework can be seen post-operation.
Another such consideration taken into account by Dr. Kurkjian is the strength of the nasal cartilage. For instance, he says people of certain ethnic backgrounds—such as Middle Easterners—commonly have relatively weak cartilage in the nose, which can have a negative effect on the longevity of results achieved if not addressed. When this is the case, the Fort Worth plastic surgeon explains he makes every effort to strengthen cartilage as needed in order to allow for the newly refined nasal contour to be maintained long-term.
"Of course," Dr. Kurkjian stresses, "just because an anatomical characteristic is considered 'typical' or 'common' among a certain population doesn't mean rhinoplasty will be performed the exact same way for all people of similar heritage. Every individual has their own unique aesthetic concerns, desires, and nasal anatomy; I always work in collaboration with my patients to develop a rhinoplasty plan that effectively addresses their needs while yielding a natural-looking nose they could have perceivably been born with."
About Jon Kurkjian, MD
Dr. Kurkjian is certified by the American Board of Plastic Surgery and has undergone extensive aesthetic surgical training in both New York City and Dallas. In addition to rhinoplasty and revision rhinoplasty, he offers a full array of cosmetic procedures for the face, body, and breasts—including facelift surgery, mommy makeovers, abdominoplasty, breast augmentation, and more. His practice also provides injectable treatments, BroadBand Light (BBL) therapy, PRP therapy, and various other non-surgical aesthetic enhancement options.
To learn more, visit jkplasticsurgery.com and facebook.com/jonkurkjianmdplasticsurgery. Dr. Kurkjian is available for interview upon request.
Contact:
Jon Kurkjian, MD
5825 Edwards Ranch Rd.
Suite 200
Fort Worth, TX 76109
817-870-5080
Rosemont Media
858-200-0044
www.rosemontmedia.com