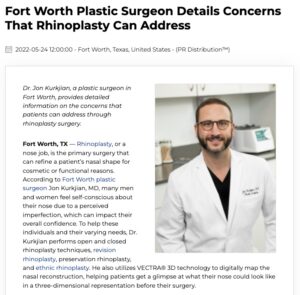 Dr. Jon Kurkjian, a plastic surgeon in Fort Worth, provides detailed information on the concerns that patients can address through rhinoplasty surgery.
Fort Worth, TX — Rhinoplasty, or a nose job, is the primary surgery that can refine a patient's nasal shape for cosmetic or functional reasons. According to Fort Worth plastic surgeon Jon Kurkjian, MD, many men and women feel self-conscious about their nose due to a perceived imperfection, which can impact their overall confidence. To help these individuals and their varying needs, Dr. Kurkjian performs open and closed rhinoplasty techniques, revision rhinoplasty, preservation rhinoplasty, and ethnic rhinoplasty. He also utilizes VECTRA® 3D technology to digitally map the nasal reconstruction, helping patients get a glimpse at what their nose could look like in a three-dimensional representation before their surgery.
There are many different concerns that rhinoplasty can address, explains Dr. Kurkjian. He highlights three common features that are often revised through nasal surgery: the size of the nose, the alignment of the nose, and a deviated septum.
Size of the Nose: Dr. Kurkjian notes that many people can become self-conscious if they feel their nose is not proportionate to the rest of their face. If patients want to adjust their nasal size, whether they feel it is too big or too small, trained plastic surgeons can make certain adjustments based on the patient's goals. By reducing or increasing the overall size, patients can feel more confident knowing that their nose better complements the rest of their facial features.
Crooked Nose: Due to factors like one's genetics or an accident, people can develop a nose that is misaligned and appears crooked. Unfortunately, Dr. Kurkjian says this misalignment can be highly noticeable due to the nose's central location on the face. If this asymmetry is bothersome for someone, rhinoplasty can be tailored to help straighten the misalignment to create a more balanced look to their face.
Deviated Septum: Those who experience a deviated septum will likely have issues breathing through their nose, explains Dr. Kurkjian. A deviated septum occurs when the septum leans into either the left or right side of the nasal cavity. Patients with this problem can also be more prone to developing sinus infections and suffering from headaches. Dr. Kurkjian notes that rhinoplasty can be highly effective at correcting this structural problem, opening up the breathing passage to allow for proper air flow. By correcting this nasal concern, patients can expect to breathe easier and limit future issues from developing.
In addition to these concerns, Dr. Kurkjian adds that rhinoplasty can address other features that patients may want to change, including the widening and smoothing of the nose's bridge, enhancing the angle of the nasal tip, increasing or decreasing nostril size, and improving the overall symmetry of the nose.
For those wanting to address concerns related to the look and function of their nose, from changing its shape or size to correcting its structure, Dr. Kurkjian encourages them to contact a trusted board-certified plastic surgeon who is experienced with rhinoplasty.
About Jon Kurkjian, MD
Board-certified plastic surgeon Jon Kurkjian, MD, graduated in the top 3% of his class when he earned his medical degree from the University of Texas – Southwestern Medical School. Expanding his medical knowledge, Dr. Kurkjian has received advanced education and high-level training from other world-class surgeons to become the surgeon he is today. Based in Fort Worth, Texas, Dr. Kurkjian offers a wide variety of surgical procedures and nonsurgical treatments for patients at his private practice.
To learn more about Dr. Kurkjian, his practice, and the rhinoplasty procedure, visit jkplasticsurgery.com, facebook.com/jonkurkjianmdplasticsurgery, and instagram.com/dr_jon_kurkjian. He is available for interview upon request.
Contact:
Jon Kurkjian, MD
5825 Edwards Ranch Rd
Suite #200
Fort Worth, TX 76109
(817) 870-5080
Rosemont Media
(800) 491-8623
www.rosemontmedia.com