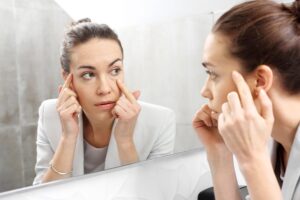 If you have ever tried to fix puffy bags under your eyes by drenching your face in concealer, you are not alone! Many of our patients have experienced the same frustration. Some feel that bloated look adds a tired, worn-out quality to their expressions – and they can be brutal to cover up. Thankfully, there are cosmetic procedures that can fix under-eye bags, such as eyelid surgery (blepharoplasty) or a variety of dermal fillers. Our board-certified plastic surgeon, Dr. Jon Kurkjian, is well-versed in both. He personalizes each treatment plan to make sure patients feel at home in his Fort Worth office.
Eyelid surgery can address a myriad of cosmetic concerns involving the upper or lower eyelid, including under-eye bags. It is performed by redistributing or removing fat, tightening the space surrounding the eye, or a combination of these or similar techniques. The surgery has left patients around the world looking and feeling several years younger. For a sense of Dr. Kurkjian's exceptional results, take a look at our before-and-after photos.
For patients who would prefer a non-surgical approach, we offer Juvederm® and Restylane®, two of the best soft-tissue, hyaluronic acid-based fillers available. The hyaluronic acid solution in these injectables can restore volume to the sunken spots, easing the sleepy effect they tend to cast over the eyes. Generally, both injectables involve a minimally invasive procedure that can be performed in under one hour.
Dr. Kurkjian is glad to help you choose an ideal option to address puffy under-eye bags. Feel free to schedule your consultation today.