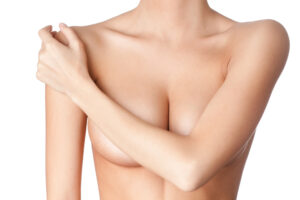 Procedure: Approximately 1–3 hours (depending on single or double breast reconstruction)
Anesthesia: General Anesthesia
Recovery: About 1–2 weeks (for office jobs and non-strenuous activities)
Post-op Visits: 1 day, 1 week, 3 weeks, 6 weeks, 6 months
Unfortunately, breast cancer will affect one in eight women living in the U.S. As part of their treatment, many of those diagnosed with breast cancer will undergo a mastectomy during which the breast tissue—and sometimes the nipple/areola—is removed, leaving behind only the breast skin. When this is the case, reconstruction of the breast can be a key aspect of recovery, both physically and mentally. Thankfully, breast reconstruction surgery has advanced tremendously throughout the years, and the variety of techniques available today has made restoring a natural breast appearance possible for virtually all breast cancer patients who desire to do so.
The physician responsible for helping reshape the breast mound and nipple-areolar complex is a plastic surgeon. Our board-certified plastic surgeon, Dr. Jon Kurkjian, underwent training at the only National Cancer Institute-designated Cancer Center in North Texas. While there, he gained experience in both tissue expander / breast implant reconstruction and free flap breast reconstruction using a patient's own tissues to reconstruct the breast. He is also highly skilled in using an individual's own fat to rebuild the breasts.
If you have been diagnosed with breast cancer and are considering breast reconstruction, Dr. Kurkjian will be more than happy to meet with you to discuss your options. Reconstructive breast surgery can be performed during or after mastectomy, depending on a number of different factors unique to each patient. In the event you have not undergone a mastectomy yet, Dr. Kurkjian can coordinate with your oncology team to determine the proper course of action with respect to the details of your cancer treatment plan. You will be involved throughout every step of this planning process, and your specific needs and desires will dictate when and how the reconstructive procedure is performed.
If you have already undergone a mastectomy—or if it is decided that the breast reconstruction should be performed after the mastectomy—Dr. Kurkjian will work closely with you to develop a customized surgical strategy based such elements as your skin quality, desired breast size and more. This process can be further enhanced by our office's VECTRA® XT 3D imaging system that allows you to view ultra-high resolution photos of your potential results with different reconstructive techniques. This technology enables Dr. Kurkjian to better formulate a customized approach to secondary breast reconstruction, and it has significantly improved patient education and communication during the breast reconstruction planning process.
At our practice, we understand that breast reconstruction can be a complex and often confusing topic. Dr. Kurkjian will be happy to see you as many times as you need to help ensure you are totally informed about your treatment options. Together, our team will help guide you through the entire breast reconstruction process from diagnosis to recovery, aiming to get you back to your normal daily life as quickly as possible. Dr. Kurkjian and our staff truly enjoy being a part of the healing process for breast cancer patients.
Dr. Kurkjian was referred by the Breast Oncologist for reconstruction and it was a GREAT thing. From the initial consultation, the different breast reconstruction stages to the final review, Dr. Kurkjian was involved, caring, and honest about expectations and results. The office support staff were excellent, caring and supportive. I will always do the annual follow ups with him and no one else. Highly RECOMMEND this professional, skilled, and competent doctor.

Sam Belknap

June 08, 2017

12345
Benefits of Breast Reconstruction – Restoring a Sense of Wholeness
Breast reconstruction surgery can be incredibly rewarding and empowering for women who have undergone mastectomy as part of their breast cancer treatment. Among its many benefits, breast reconstruction can help:
Rebuild breast contour
Maximize breast symmetry
Develop the size and shape of the breast
Improve both the psychological and physical recovery of patients after mastectomy
Restore a sense of wholeness and femininity
Breast Reconstruction Techniques and Considerations
There are several different techniques that can be used to rebuild the breast mound during or after mastectomy. Dr. Kurkjian has received specialized training in some of the most advanced reconstructive methods available, each of which is detailed below. During a consultation, he can help you determine which approach would be most appropriate for your unique situation.
Tissue Expansion Prior to Rebuilding the Breasts
Tissue expansion refers to the process of stretching skin tissue to create enough space for the breast to be rebuilt with an implant, free flap graft or fat transfer. This technique is often necessary when a patient's breast pocket following mastectomy is not large enough to safely/effectively accommodate the desired implant, flap graft or quantity of fat. In addition, tissue expansion may be required when radiation was performed as part of one's breast cancer treatment. Radiation can often make breast tissues tighter and more rigid than normal, sometimes making it difficult—or even impossible—to rebuild the breast mound without first expanding tissues. Depending on what you and Dr. Kurkjian decide in regard to the timing of your breast reconstruction, a tissue expander can be placed immediately after your mastectomy or at a later date.
Implant Reconstruction
As the name suggests, implant reconstruction refers to recreating a natural breast shape using a breast implant. A popular style of implant utilized for this reconstructive technique is the round, highly cohesive silicone gel (gummy bear) implant due to the dramatic effect it can create for most patients. That said, Dr. Kurkjian will discuss all implant options at the time of the consultation to help you make the most appropriate choice for you.
Depending on the size of the chosen implant and sufficiency of the breast pocket, implant reconstruction can be performed with tissue expansion or without tissue expansion—the latter of which is known as direct-to-implant reconstruction. In either case, Dr. Kurkjian will carefully place the implant above the pectoral muscle, below the muscle or in a dual-plane position (mostly submuscular) based on which location will create an optimal result. In some cases, fat transfer and/or latissimus dorsi flap reconstruction can be used in combination with an implant to further enhance the shape and/or size of the reconstructed breast.
Latissimus Dorsi Muscle Flap Reconstruction
Latissimus dorsi flap reconstruction involves tissues taken from the latissimus dorsi muscle in the upper back (just beneath the shoulder and behind the armpit) to rebuild the breast. During the procedure, an oval-shaped flap of skin, muscle, fat and blood vessels from the latissimus dorsi is tunneled under the skin to the breast. Once in place, these tissues are carefully shaped to create the new breast mound. Due to the close proximity of the donor site to the chest, the blood vessels of the flap can remain attached to their original blood supply in the back for long-term tissue survival.
Based on a patient's needs and aesthetic desires, latissimus dorsi flap reconstruction can be performed with or without prior tissue expansion. Additionally, an implant can be placed and/or fat can be transferred in conjunction with this reconstructive method to create an improved outcome, if necessary.
Breast Reconstruction with Fat Transfer
Breast reconstruction with fat transfer (or fat grafting) is the process of extracting excess fat tissue from one region of the body and using it to form the new breast mound. With this technique, Dr. Kurkjian will first remove fat cells via liposuction from one or multiple areas of the body where an ample amount is present, such as the abdomen, thighs or back. The harvested fat is then purified and injected into the breast pocket until the desired shape and volume is achieved.
Like the other methods, fat grafting for breast reconstruction can be performed with or without tissue expansion. If necessary to attain a more favorable result, this technique can also be combined with implant reconstruction and/or latissimus dorsi flap reconstruction.
The Breast Reconstruction Procedure
Dr. Kurkjian can conduct breast reconstruction surgery at the time of mastectomy or after the cancer treatment is over. Both options are highlighted below.
Immediate Breast Reconstruction
Immediate breast reconstruction refers to when the breast is recreated at the same time as the mastectomy. With an immediate reconstruction, all of the breast skin—and sometimes the nipple-areola complex—is typically preserved. This allows for the breast to be rebuilt with an implant, flap graft or fat tissue right away, helping to maintain the natural shape of the breast. As an additional benefit, immediate breast reconstruction eliminates the need for multiple operations, thereby resulting in only one recovery period and reducing the number of times general anesthesia is administered.
Secondary (Delayed) Breast Reconstruction
Secondary, or delayed, breast reconstruction indicates that a span of time has passed between the mastectomy and reconstructive procedure, regardless of how short or long that timeframe may be. With delayed reconstruction, tissue expansion is usually necessary to stretch the skin enough for an implant, flap graft or fat to be safely and effectively accommodated. The procedure is generally performed in stages, with the expander being situated first and the implant placement, flap graft or fat transfer occurring later. In some instances, an additional procedure may be needed to reconstruct the nipple-areolar complex.
No matter which approach is taken, Dr. Kurkjian's aim is to create an exceptionally natural-appearing result while minimizing recovery and downtime. As part of this effort, he employs meticulous dissection techniques that limit trauma to tissues and reduce postoperative discomfort, and he takes great care to help prevent bleeding throughout the procedure to reduce the potential for excessive bruising.
Recovery
Recovery and downtime following breast reconstruction will depend on the particular technique utilized, as well as each individual's natural healing process. Generally speaking, patients will likely notice some minor swelling and/or soreness in the treated breast, though these symptoms should gradually diminish over the course of several days. Any discomfort that may be experienced is usually described as mild, and most women feel well enough to resume normal, non-strenuous daily routines within about one to two weeks. Activities such as heavy lifting, sports or vigorous exercise should be avoided for a minimum of six weeks to provide ample time for the breast (and donor site, if applicable) to fully heal.
As part of our mission to provide comprehensive care, Dr. Kurkjian and our team are dedicated to helping you recover from breast reconstruction as quickly and smoothly as possible. You will be provided with personalized postoperative instructions detailing how to properly care for your reconstructed breast, and our staff will help you book follow-up appointments so Dr. Kurkjian can monitor your healing progress and answer any questions you might have in the days and months after surgery.
Patients are not simply numbers to us. We strive to establish strong relationships with each and every individual, and if you choose to pursue breast reconstruction as part of your breast cancer treatment, we would be honored to provide the help and support you need all along the way.
Contact Our Practice
If you would like more information about breast reconstruction, or if you wish to schedule a consultation with our experienced plastic surgeon, please contact us online or by telephone today.