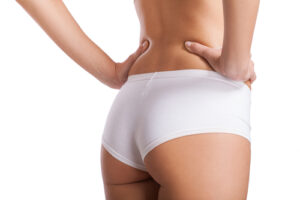 The Brazilian butt lift is designed for women who want to improve the contour of the buttocks and the surrounding areas from their rib cage down to their knees. Jon Kurkjian, MD performs Brazilian butt lifts using advanced liposuction and fat grafting techniques. This unique procedure uses your own fat from unwanted areas to improve your buttock volume and contour. The use of liposuction along with fat transfer buttock augmentation helps to balance your body shape and contour.
Dr. Kurkjian is an aesthetic surgery fellowship-trained plastic surgeon who specializes in offering natural, safe and customized body contouring solutions.
Brazilian Butt Lift Benefits
Brazilian butt lifts can often help:
Enhance the volume of the buttocks
Reshape and contour the areas around the buttocks
Improve the overall shape of the buttocks
Restore balance to the back, hips and thighs.
Brazilian Buttock Lift Procedure
Butt lift surgery begins with liposuction that is performed to extract the excess fat from areas such as the back, thighs, hips or abdomen. Small incisions are made to extract the fat via liposuction. This fatty tissue is then purified and injected into specific areas of the buttocks in order to increase height, width or projection of the buttocks. Preoperatively, Dr. Kurkjian utilizes the VECTRA® XT 3D system to simulate the outcome of your Brazilian butt lift surgery so you can visualize your new body before you commit.
The Initial Consultation
At the initial consultation, Dr Kurkjian will review your medical history to ensure that it is medically safe for you to undergo surgery. You will have an opportunity to share, in detail, the areas that you would like addressed and specifically the buttock shape that you hope to achieve. Dr. Kurkjian will evaluate your anatomy and determine the treatment plan that is best suited for your body. Then, you will have an opportunity to work with Dr. Kurkjian by altering 3D images of your body until you feel completely comfortable with the planned procedure.
Recovery
Personalized post-operative care is one of the highlights of treatment at our plastic surgery practice. The goal is to ensure a safe and speedy recovery. Mild swelling and pain may be experienced after the surgery which can be reduced by wearing a compression garment. Most patients return to light activity within 1 week and more vigorous activity 3 weeks after butt lift surgery.
Contact Our Practice
To learn more about the Brazilian buttock lift procedure, or to schedule a consultation at our practice, please do not hesitate to contact us today.