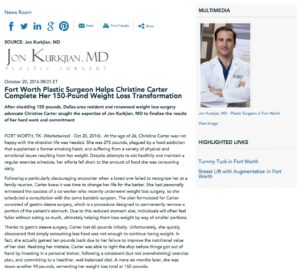 After shedding 150 pounds, Dallas-area resident and renowned weight loss surgery advocate Christine Carter sought the expertise of Jon Kurkjian, MD to finalize the results of her hard work and commitment.
Fort Worth, TX — At the age of 26, Christine Carter was not happy with the direction life was headed. She was 275 pounds, plagued by a food addiction that supplanted a former smoking habit, and suffering from a variety of physical and emotional issues resulting from her weight. Despite attempts to eat healthily and maintain a regular exercise schedule, her efforts fell short to the amount of food she was consuming daily.
Following a particularly discouraging encounter when a loved one failed to recognize her at a family reunion, Carter knew it was time to change her life for the better. She had personally witnessed the success of a co-worker who recently underwent weight loss surgery, so she scheduled a consultation with the same bariatric surgeon. The plan formulated for Carter consisted of gastric sleeve surgery, which is a procedure designed to permanently remove a portion of the patient's stomach. Due to this reduced stomach size, individuals will often feel fuller without eating as much, ultimately helping them lose weight by way of smaller portions.
Thanks to gastric sleeve surgery, Carter lost 60 pounds initially. Unfortunately, she quickly discovered that simply consuming less food was not enough to continue losing weight. In fact, she actually gained ten pounds back due to her failure to improve the nutritional value of her diet. Realizing her mistake, Carter was able to right the ship before things got out of hand by investing in a personal trainer, following a consistent (but not overwhelming) exercise plan, and committing to a healthier, well-balanced diet. A mere six months later, she was down another 90 pounds, cementing her weight loss total at 150 pounds.
While Carter admits she could have lived with the extra skin created by her dramatic weight fluctuation—adding that this side effect of significant weight loss should never prevent someone from pursuing bariatric surgery—her personal transformation was not yet complete. Desiring to eliminate excess skin in the abdomen (where much of her weight had been gained) and breasts, she sought the expertise of Dr. Jon Kurkjian, a board-certified plastic surgeon in Fort Worth.
After assessing her unique needs and aesthetic desires, Dr. Kurkjian devised a surgical plan that included a combination of abdominoplasty and augmentation-mastopexy procedures:
"Christine and I worked together to determine a plan that fit her aesthetic goals while maintaining a keen focus on safety. We used very specific measurements to determine the ideal breast implant for her body. Christine also had an opportunity to see a 3D simulation of her breast procedures beforehand using our VECTRA XT imaging system. This helped ensure that she and I were on the same page before proceeding with the actual operation. We definitely used some of the most advanced techniques in body contouring to help with her tummy tuck, allowing us to achieve her desired result while prioritizing her safety."
Today, Carter continues to maintain a healthy lifestyle and remains an advocate for bariatric surgery, serving as an inspiration for individuals struggling with weight issues. Although plastic surgery was part of her own journey, she reiterates that the potential need for skin excision should not factor into anyone's decision to undergo weight loss surgery—the ultimate goal is to get healthy, stay healthy, and change one's life for the better. That said, for individuals who may be interested in eliminating loose skin following massive weight loss, Carter's story is evidence that cosmetic options are available, and that these options can help accentuate an already remarkable transformation.
About Jon Kurkjian, MD
Dr. Kurkjian is certified by the American Board of Plastic Surgery and serves as a Clinical Instructor of Plastic Surgery at the University of Texas – Southwestern Medical School in Dallas. At his practice, he offers a comprehensive span of aesthetic procedures for the face and body, including breast augmentation and lift, abdominoplasty, rhinoplasty, facelift surgery, and more. He also provides several minimally and non-invasive treatments designed to rejuvenate the skin. As one of only a few board-certified plastic surgeons in the Dallas-Fort Worth area who has received additional aesthetic fellowship training, Dr. Kurkjian is highly qualified to perform cosmetic surgery with optimal levels of skill and safety.
For more information about Dr. Kurkjian, visit jkplasticsurgery.com. He is available for interview upon request.
Contact:
Jon Kurkjian, MD
800 8th Ave Suite #336
Fort Worth, Texas 76104
817-870-5080
Rosemont Media
858-200-0044
www.rosemontmedia.com