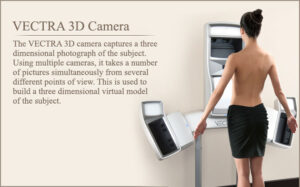 For patients interested in breast augmentation, choosing the correct implant size and shape depends on several factors that are unique to each and every individual. At my practice, we use a combination of three dimensional imaging and biometric analysis to help ensure you select the breast implant size and shape that can most effectively achieve your cosmetic goals while minimizing complications and providing long-term results.
We are one of the few practices in the country able to provide 3D imaging simulations to actually show patients potential results that can be realistically achieved with various implant sizes and shapes. The VECTRA® XT 3D imaging system has truly revolutionized the way in which you (as the patient) can be involved throughout the implant selection process. We were not surprised by the results of a recent study published in the Aesthetic Surgery Journal that indicate this 3D imaging technology provides very good accuracy in simulating potential breast size and contour – we have witnessed an excellent degree of precision for simulations produced in my office as well.
Beyond computer simulation, we also employ biometric analysis during which measurements of your chest wall, breast shape, skin stretch and breast volume are all used to help select an implant that is most ideal for your unique breasts and body type. Ultimately, our aim is to help you attain your breast enhancement goals with the safest, most natural-looking results possible.
Contact Our Office
For more information about the breast implant selection process, or to schedule a consultation with Dr. Kurkjian, please contact us today.