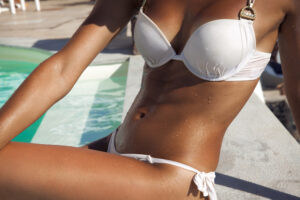 Breast augmentation with implants continues to be one of the most popular cosmetic surgery procedures performed each year. When selecting breast implants, patients have traditionally had two options from which to choose: saline and non-form-stable silicone gel. Thanks to advancements within the field of aesthetic surgery, women interested in breast augmentation now have a third option, known as form-stable cohesive gel breast implants.
Also referred to as "gummy bear breast implants" (due to their gelatinous consistency), this innovative implant option is approved by the Food and Drug Administration (FDA) and can offer patients a number of unique benefits. One specific advantage is that cohesive gel implants have the ability to better maintain their form as patients move around or change positions. Additionally, these implants have shown fewer signs of rippling and folding, which is believed to help minimize the risk of tears that can eventually lead to an implant rupture. Should a leak in the implant occur, the cohesive gel inside is considered less likely to spread into surrounding tissues because of its consistency.
Another key benefit of gummy bear implants is their shape. Designed with a projecting lower pole and a thinner upper pole, this implant option can often produce results that more closely resemble the shape of natural breasts. Furthermore, many patients consider cohesive gel implants to have a more natural feel as well.
Ultimately, with the growing number of implant options prospective breast augmentation patients have today, it becomes even more imperative to consult with an experienced and qualified plastic surgeon. Doing so will help ensure you select the safest, most effective breast implants for your unique needs and cosmetic goals.
Contact Our Office
For more information about breast implant options, or to schedule a consultation with Dr. Kurkjian, please contact us today.