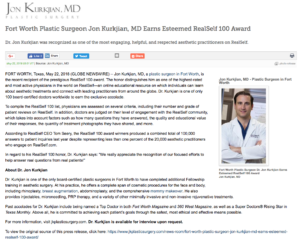 Dr. Jon Kurkjian was recognized as one of the most engaging, helpful, and respected aesthetic practitioners on RealSelf.
Fort Worth, TX — Jon Kurkjian, MD, a plastic surgeon in Fort Worth, is the recent recipient of the prestigious RealSelf 100 award. The honor distinguishes him as one of the highest-rated and most active physicians in the world on RealSelf—an online educational resource on which individuals can learn about aesthetic treatments and connect with leading practitioners from around the globe. Dr. Kurkjian is one of only 100 board-certified doctors worldwide to earn the exclusive accolade.
To compile the RealSelf 100 list, physicians are assessed on several criteria, including their number and grade of patient reviews on RealSelf. In addition, doctors are judged on their level of engagement with the RealSelf community, which takes into account factors such as how many questions they have answered, the quality and educational value of their responses, the quantity of treatment photographs they have shared, and more.
According to RealSelf CEO Tom Seery, the RealSelf 100 award winners produced a combined total of 100,000 answers to patient inquiries last year despite representing less than one percent of the 20,000 aesthetic practitioners who engage on RealSelf.com.
In regard to his RealSelf 100 honor, Dr. Kurkjian says: "We really appreciate the recognition of our focused efforts to help answer real questions from real patients!"
About Dr. Jon Kurkjian
Dr. Kurkjian is one of the only board-certified plastic surgeons in Fort Worth to have completed additional Fellowship training in aesthetic surgery. At his practice, he offers a complete span of cosmetic procedures for the face and body, including rhinoplasty, breast augmentation, abdominoplasty, and the comprehensive mommy makeover. He also provides injectables, microneedling, PRP therapy, and a variety of other minimally invasive and non-invasive rejuvenative treatments.
Past accolades for Dr. Kurkjian include being named a Top Doctor in both Fort Worth Magazine and 360 West Magazine, as well as a Super Doctors® Rising Star in Texas Monthly. Above all, he is committed to achieving each patient's goals through the safest, most ethical and effective means possible.
For more information, visit jkplasticsurgery.com. Dr. Kurkjian is available for interview upon request.
Contact:
Jon Kurkjian, MD
800 8th Ave. Suite 336
Fort Worth, TX 76104
817-870-5080
Rosemont Media
858-200-0044
www.rosemontmedia.com