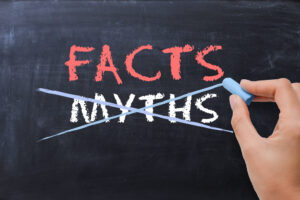 Driven by the popularity of breast augmentation in today's culture, the Internet is home to a seemingly limitless amount of information prospective patients can access to become more knowledgeable about breast implants prior to—or even after—treatment. Unfortunately, not all of the information available comes from credible sources or is entirely accurate, leading to several misconceptions that have grown through the years. To help set the record straight on a few popular misbeliefs, Dr. Jon Kurkjian has listed three of the most common myths he hears about breast implants below, revealing the actual facts about each one.
Myth #1: Breast Implants Are Dangerous
While silicone implants were removed from the market in the 1990s for health-related suspicions, they were reintroduced into plastic surgery once studies revealed no direct link between silicone gel and the development of systemic or autoimmune illnesses. All breast implants available today have undergone—and continue to undergo—extensive FDA testing and research to determine their short- and long-term safety for patients. It should be noted that some recent reports show a very small number of patients have been diagnosed with breast implant-associated anaplastic large cell lymphoma (BIA-ALCL) after receiving implants; however, this condition is extremely rare and usually treatable via implant removal.
Myth #2: You Can't Breastfeed with Breast Implants
This misconception originates from the fact that many women have never attempted to breastfeed prior to breast augmentation and are unaware of whether or not they are capable of doing so in the first place. Consequently, some patients mistakenly attribute their inability to nurse children to the presence of breast implants. In reality, when implants are inserted and placed correctly, they should have no impact on breastfeeding. There are even certain techniques a plastic surgeon can use—such as the inframammary incision and submuscular implant placement—that minimize contact with milk production glands, helping to further enhance peace of mind for patients who wish to breastfeed in the future.
Myth #3: You Have to Replace Breast Implants Every 10–15 Years
There is not a definitive timeline for breast implant replacement—it all depends on the current condition of the implants. If breast implants are still intact and not showing any signs of other issues after 10 to 15 years, there's really no reason to have them replaced unless you desire to do so to be proactive. In general, however, the older breast implants get, the more likely they are to leak, rupture, or develop some other problem. As a result, it's important to be aware of abnormal changes that may indicate implant replacement is necessary (such as deflation, shape irregularities, hardening, etc.), and don't hesitate to contact your plastic surgeon if you have questions, concerns, or would like a professional opinion on whether or not it's time for new implants.
For more information about breast implants, or if you are interested in breast augmentation and would like to schedule a consultation with Dr. Kurkjian, please feel free to reach out to our practice online or by telephone today.